8 results found
From newsletter 19:
1. (AVIATION). Trade Catalogue La Locomotion Aérienne. Offert aux membres du Corps Médical par P. Longuet, Pharmacien de 1re Classe. La Livre d'Or de l'Aviation. (Preface by Georges Legagneux). (Paris, Pilules Debouzy, 1911). 22 x 18 cm. Original wrappers printed in blue and gold. 48 p. Printed in dark and light brown. Richly illustrated. First edition. Vertical fold. Backstrip partly worn. Lower cover a bit stained.
€ 100
* Very rare and fascinating book about aviation, especially between 1900 and 1910, offered as a trade catalogue for gall and liver medicines to physicians! The main text has been written by sportsman Marcel Viollette. Legagneux was a popular aviator.
2. (AVIATION). AIR SHOW Royal Air Force Display Farnborough, Hants. Friday 7th and Saturday 8th July (1950). London, R.A.F. Benevolence Fund, 1950. Original decorated wrappers. First edition. 56 p. With many nice advertisements for airplanes and their parts. Spot on upper cover, spine has a little wear, but a very good copy.
€ 15
* Colored wrappers showing a De Havilland Vampire airplane. Attractive, lavishly illustrated guide for the R.A.F. Display of July 7 and 8, 1950, with a lot of aerobatics by Vampires, Chipmunks, Meteors, Helicopters, an Olympia and a Spitfire. Also the Canberra, Vickers-Armstrong 510, De Havilland Venom, Hawker P. 1052, Hornet, Harvard, Boulton Paul Balliol, Slingsby Sedbergh, and even a Bleriot, Deperdussin, Blackburn and a Sopwith Pup.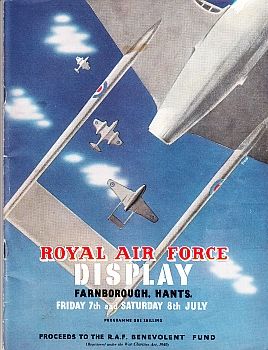 3. (AVIATION). (WRIGHT Brothers). BIA, Geo. Les frères Wright et leur oeuvre. Rapport présenté à la Section Aeronautique de la Société Belge des Ingénieurs et Industriels. Illustré par Fox. [Liège], Imprimeries du journal La Meuse, [1909?]. 27 x 18 cm. Original illustrated wrappers. 56 p. With photos and drawings. First edition. Cover somewhat stained.
€ 200
* Rare illustrated report in French serving as advertisement for Wright Aeroplanes in Belgium.
4. (AVIATION). GAUVIN, J. En Ballon. Paris, Société Française d'Imprimerie et de Librairie, about 1895. 22 x 16 cm. Original boards. Illustrated. 16 p. Cover slightly worn, a bit foxed.
€ 25
* French children's book about balloons and 'dirigeables' or airships.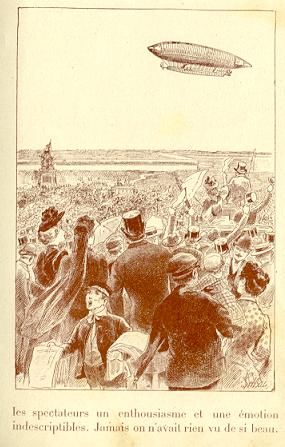 5. (AVIATION). MESSIER. Le spécialiste du train d'atterissage. (Airplane trade catalogue). Montrouge, Messier, [1935]. 28 x 21 cm. Original light blue wrappers. 32 p. Printed in black and light blue on cream-colored paper. Richly illustrated. All text pages underprinted with the blue Messier eagle. First edition. Soft crease in flyleaf, but a fine copy.
€ 75
* Elegant trade catalogue for the factory of airplane landing gear that was developed by George Messier (1896-1933), now Messier-Bugatti-Dowty.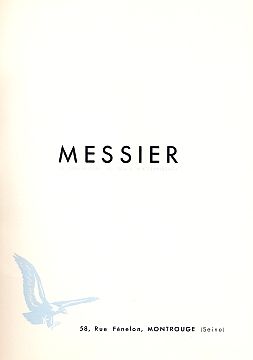 From newsletter 8:
DRAMA IN AVIATION
From newsletter 4:
8 LAPORTE, André Les naufrages aériens. Paris, Théodore Lefèvre et Émile Guérin, [1880]. 23 x 14 cm. Richly gilt and decorated publisher's cloth (Engel). (6), 268 p. All edges gilt. With 23 finely wood-engraved plates and an illustration on the title page. First edition. Upper corners bumped, cover very lightly worn. Book block a bit uneven, slight staining.
€ 140
* History of ballooning and parachutes with special attentions to the many accidents. With dramatic illustrations. An attractive aviation book!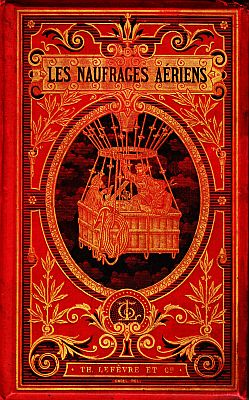 From newsletter 1:
11. PELLETIER-DOISY, Georges Mon Raid Paris-Tokyo. 48 bois originaux de Jacques Boullaire. (Paris, Société Anonyme des Ateliers d'Aviation Louis Bréguet, 1924). Oblong. 132 p. Uncut. Full-page illustrations and vignettes. Printed in 2000 numbered copies. First illustrated edition. Cover a bit worn and browned, lower wrapper with dog's ear.
€ 65
* Pelletier-Doisy (1892-1953) pioneered his Bréguet 19 in the spring of 1924 in six weeks from Paris to Tokyo, where he was received by Paul Claudel as ambassador of France in Japan. Attractive art deco book with romantic original woodcut illustrations.