6 results found
From newsletter 18:
2. BEERBOHM, Max Caricatures of Twenty-Five Gentlemen. London, Leonard Smithers, 1896. 26 x 19 cm. Original gilt cloth. (64) p. with 25 black-and-white drawings. First edition, first issue. Corners slightly bumped, endpapers a bit foxed. Nice bookplate of J.E. Barton. Tiny bookseller's mark. In all an excellently collectible 1890's book in navy blue cloth brightly blocked in gold.
€ 275
* The first book of caricature portraits that was to make 'Max' a household name. Including Arthur Balfour, Aubrey Beardsley, Henry Harland, Robert Hichens, the Marquess of Queensberry, George Bernard Shaw, the Prince of Wales and other famous worthies. Joseph Edwin Barton (1875-1959) was an author on Thomas Hardy (and winner of the Newdigate Prize of 1897).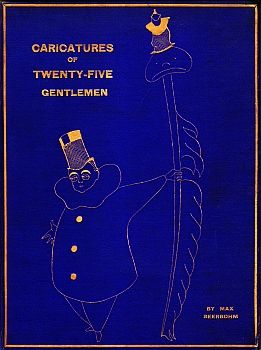 3. BEERBOHM, Max Fifty Caricatures. London, William Heinemann, 1914. 23 x 18 cm. Original gilt cloth. 48 tipped-in color plates and 2 on text paper by Max Beerbohm. Second edition. Some foxing, otherwise in excellent condition.
€ 45
* Caricatures with humorous captions about famous people.

4. BEERBOHM, Max The Happy Hypocrite. Illustrated by George Sheringham. London/ New York, John Lane, The Bodley Head, [1915]. 26 x 20 cm. Decorated cloth. 72 p. With 24 full-page art nouveau illustrations on art paper (with tissue guards) and a number of attractive vignettes and initials. Binding a bit worn. Some foxing.
€ 35
* Beerbohm's most famous book. His eponymous hero, an egotistic nobleman, suffers heavily from love. New edition with subtle, exquisite illustrations and a colorful binding. New author's preface dated 1915.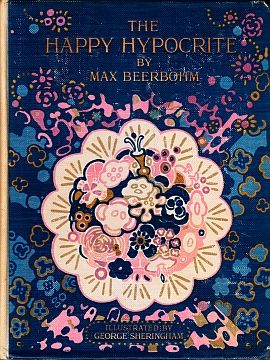 5. BEERBOHM, Max Rossetti and his Circle. London, John Lane, William Heinemann, 1922. 26 x 20 cm. Original cloth. Frontispice and 22 tipped-in color plates by Max Beerbohm with captioned tissue guards. Backstrip a bit darkened. Lower corners bumped. Some foxing.
€ 25
* Caricatures with humorous captions.

6. BEERBOHM, Max The Dreadful Dragon of Hay Hill. London, William Heinemann, [1928]. 24 x 15 cm. Cloth-backed boards with dust jacket. (4), 116 p. With a colorful frontispice by the author. First edition. DJ has a little wear and tear. Some yellowing on last endpaper caused by newspaper clippings.
€ 25
* Humorous story set in 39000 B.C.

7. BEERBOHM, Max Things New and Old. (&) Observations. Londen, William Heinemann, 1923 & 1925. 29 x 22 cm. Two original ochre colored cloth bindings (one darker than the other). viii, 100; (8), 104 pp. With 50 resp. 52 pictures by the author. First edition. Corners bumped. Some traces of use, slight reading slant.
€ 45
* Caricatures of countries and circumstances, and of famous Britons of the 19th and 20th century.