4 results found
From newsletter 23:
14 (BUCKLAND WRIGHT, John). OMAR KHAYYAM Kwatrijnen. Illustraties van John Buckland Wright. (Translated into Dutch by Ponticus (= H.W.J.M. Keuls) from the FitzGerald translation.) Utrecht, De Bezige Bij, 1944. Narrow 4to (28,5 x 17,5 cm). Original wrappers. 36 p. With collotypes after copper engravings of John Buckland Wright. Printed in red and black on Dutch laid paper in 525 numbered copies. Cover a bit browned, backstrip a bit worn at the foot.
€ 65
* Clandestine edition, issued during the Nazi occupation of the Netherlands. Serene depictions of loving couples. De Jong 618. Reid A42a.
between fire and moon
From newsletter 19:
23. OMAR KHAYYAM Rubaiyat. Metrisch vertaald door J.A. Vooren. Met een inleiding van L.Th. Lehmann. Amsterdam, C.P.J. van der Peet, 1955. Square 8vo. Vellum-backed boards. In marbled slipcase (slightly browned). X, 122 p. First edition of this translation. Spine a bit spotted.
€ 75
* Metrical translation into Dutch by J.A. Vooren with an introduction by L.Th. Lehmann. With an essay on Dutch Omar Khayyam translations. Apart from the ordinary edition one hundred copies were printed on Boston Tekst vergé and bound in half vellum, numbered I-V and 6-100. This is one of the five Roman numbered copies. Signed under the colophon, possibly by the publisher.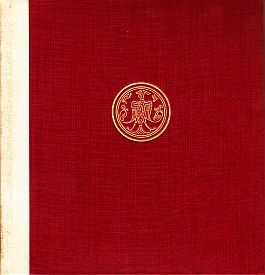 From newsletter 17:
12. OMAR KHAYYAM Rubaiyat. Amsterdam/ Antwerpen, Wereld-Bibliotheek-Vereniging, (1960). Landscape format. Original wraps. (64) p. Bookblock loosening, one inner flap dog-eared, a bit browned.
€ 20
* Translation into Dutch after FitzGerald by Joh. Weiland (known as Jan Weiland, painter, 1894-1976), who also made the illustrations and the cover lettering. Introduction by F.P. Huygens. This is one of 200 numbered deluxe copies on Kingdom paper.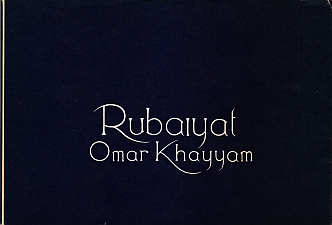 From newsletter 12:
14. KHAYYAM, Omar Rubáiyát. Amsterdam, A.A. Balkema, 1945. 19 x 11 cm. Original marbled wrappers. (36) p. Backstrip a bit worn, otherwise fine.
€ 32
* Seventy-five quatrains of Omar Khayyam in the Fitzgerald translation, exquisitely printed by Joh. Enschedé in Haarlem on fine wove paper. Typographical design by Jan van Krimpen, including the fantastic lassoing capital A with which the first poem begins.