2 results found
From newsletter 12:
20. ROSSETTI, Dante Gabriel Selected Poems. Amsterdam, A.A. Balkema, 1944. 17 x 12 cm. Original marbled wrappers. (4), 68 p. Printed in 200 copies on Haesbeek Imperium. Unopened. Backstrip slightly discoloured.
€ 16
* Selected by minor poet H.J. Scheepmaker. Typography J. van Krimpen. Lovely little book, clandestinely published during the Nazi oppression of the Netherlands. De Jong 716. Simoni R29.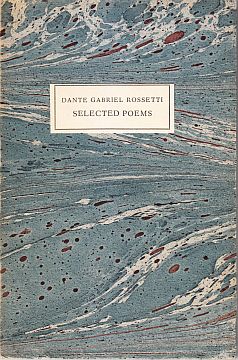 From newsletter 3:
15. ROSSETTI, Dante Gabriel Hand and Soul. Maastricht, The Halcyon Press / A.A.M. Stols, 1928. Cloth with title ticket. 17 x 13 cm. Top gilt. Uncut. (2), 44 p. Printed in 361 numbered copies. Bookplate on inside cover. Flyleaves browned.
€ 25
* One of 325 copies on Van Gelder Zonen paper. Beautiful initials and typography by Jan van Krimpen, who used a type thought to be composed by the 15th century printer Peter Schöffer. The Halcyon Press 3. Van Dijk 126.