2 results found
From newsletter 18:
2. BEERBOHM, Max Caricatures of Twenty-Five Gentlemen. London, Leonard Smithers, 1896. 26 x 19 cm. Original gilt cloth. (64) p. with 25 black-and-white drawings. First edition, first issue. Corners slightly bumped, endpapers a bit foxed. Nice bookplate of J.E. Barton. Tiny bookseller's mark. In all an excellently collectible 1890's book in navy blue cloth brightly blocked in gold.
€ 275
* The first book of caricature portraits that was to make 'Max' a household name. Including Arthur Balfour, Aubrey Beardsley, Henry Harland, Robert Hichens, the Marquess of Queensberry, George Bernard Shaw, the Prince of Wales and other famous worthies. Joseph Edwin Barton (1875-1959) was an author on Thomas Hardy (and winner of the Newdigate Prize of 1897).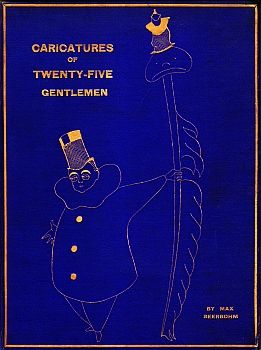 From newsletter 11:
9 HICHENS, Robert The Fruitful Vine. A Novel. London, T. Fisher Unwin. 1911. Gilt cloth. 576 p. 4th impression. Whitish stain on spine, some foxing.
€ 35
* This novel, situated in Rome, has the nicest of bookmarkers: a HANDWRITTEN, SIGNED note by the author 'With Compliments' and his address 'Hotel Windsor/ Via Veneto/ Rome/ Oct 20. 1910.' The first edition of this romantic novel was published in September, this 4th impression in November, 1911.