2 results found
From newsletter 5:
5 HAPPY SECRETARIES OF YORE. Classification System Publicity Collection of 4 English and 6 French (Belgian) illustrated publicity leaflets and trade catalogs. About 1910-1925. A.o.: Y and E Dental Record Systems (12 p., cover torn in two), Y and E Shannon System of Filing (4 p.), a Roneo Leaflet for Steel Cabinets and one for Steel Pigeon Hole Cupboards, Soennecken Livres de Comptes "Perpétuels" (16 p.), and other folders of Kardex, Maison Damman & Washer, Organos (Paris) and Longini. Some wear. Only separate publications, no magazine pages. With depictions of the filing systems, counting books and cupboards, and of happy secretaries using them.
€ 25
* Happy Secretaries of Yore - their Tools. Part One.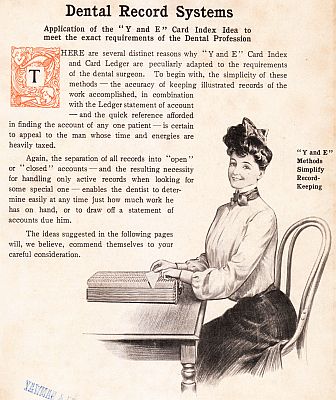 From newsletter 4:
11 LONGIN Entre femmes. Histoire lesbienne. Paris, Aux Publications Parisiennes, (about 1925?). Original illustrated wrappers. 128 p. First edition. Cover soiled and with a name on lower wrapper. Reading slant. Uncut.
€ 50
* Cheaply printed sub rosa novel. Front cover shows a photo of two girls embraced in night shirts looking in a mirror. Not in CCFr or Worldcat.