4 results found
From newsletter 23:
27 (BUCKLAND-WRIGHT, John). POE, Edgar Allan. (BUCKLAND WRIGHT, John) The Masque of the Red Death and other Tales. (With ten wood engravings by John Buckland Wright). (Maastricht/ London), The Halcyon Press [= A.A.M. Stols], 1932. Cloth with dustjacket. (2), 174 p. Printed in red and black in 206 numbered copies. The rare dustjacket browned and worn at the edges. Spine slightly paled, flyleaves partly browned, but an excellent copy of a majestic Buckland Wright edition.
€ 375
* One of 175 copies on Barcham Green. The Halcyon Press 13. Reid A9. Van Dijk 288.
From newsletter 1:
12. POE, Edgar Allan Six poèmes. Ulalume, Le Corbeau, La Dormeuse, A Hélène, La Cité dans la Mer, Lénore. Traduits en vers Français par Lucie Delarue-Mardrus. Paris, Léon Pichon, 1922. 27,5 x 18,5 cm. Original wrappers. (2), 82 pp. Uncut. With the loose erratum sheet. Covers waterstained, otherwise a very nice book.
€ 85
* French translation of six important poems of Edgar Allan Poe by Lucie Delarue-Mardrus (1875-1947), printed in green and black in a beautiful bilingual edition of only 103 numbered copies, that has not been reprinted. With the original English texts. This is one of 100 copies on heavy handmade Vélin à la Cuve des Papeteries d'Arches (Nr. 29).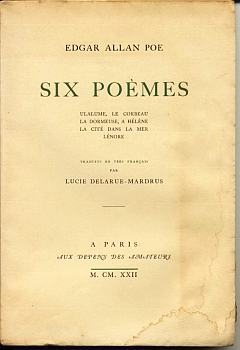 13. POE, Edgar Allan The Raven. (With illustrations by Dick Dooijes). Utrecht, Stichting De Roos, 1983. 31 x 24 cm. Bound as a Chinese block book. 16 p. Calligraphed by Dick Dooijes. Printed by Mart. Spruijt on Simili Japon in 175 numbered copies. Covers a bit discolored (as often).
€ 30
* Large format. Stichting De Roos is a Dutch bibliophile society, founded in 1945. Leeflang 124.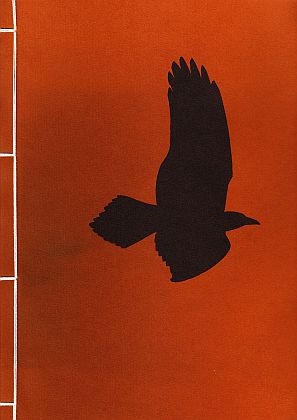 14. (POE, Edgar Allan). FREUD, Sigmund. SACHS, Hanns Edgar Poe. Bemerkungen zu Marie Bonapartes Biographie des Dichters. Von Hanns Sachs, Boston. Page 485-492 in Imago. Zeitschrift für psychoanalytische Psychologie, ihre Grenzgebiete und Anwendungen. Offizielles Organ der Internationalen Psychoanalytischen Vereinigung. Herausgegeben von Sigm. Freud. Vol. XX no. 4, 1934. Vienna, Internationaler Psychoanalytischer Verlag, 1934. Original yellow wrappers. (134) p. Uncut. First edition. Poor copy: covers browned and loose. Inside o.k.
€ 15
* Review of Marie Bonaparte's Poe biography. Also with contributions by a.o. Edmund Bergler/ Ludwig Jekels, Helene Deutsch ('Don Quijote und Donquijotismus'), Ernest Kris ('Zur Psychologie der Karikatur'), Robert Wälder and Alfred Winterstein.