3 results found
From newsletter 24:
4 (BINDING). MORAND, Paul Tendres Stocks. Avec une pr?face de Marcel Proust et des gravures de Chas Laborde. Paris, Emile-Paul Fr?res, 1924. 25 x 18 cm. Three-quarter morocco with green-gilt marbled boards. Top gilt. (4), XXII, 112 p. Original wrappers bound in. One of 475 copies on BFK Rives paper. Spine just a little paler than the sides, otherwise fine.
€ 450
* Beautifully bookbinding (not signed), spine richly gilt and inlaid with pink leather. Three stories illustrated with very attractive colored engravings, partly full page. An exquisite book!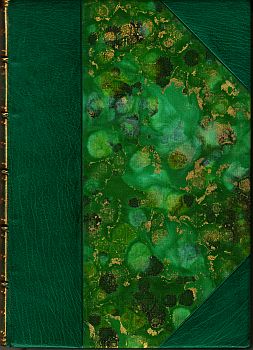 From newsletter 22:
22. PROUST, Marcel Les Plaisirs et les Jours. Illustrations de Madeleine Lemaire. Préface d'Anatole France et quatre pièces pour piano de Reynaldo Hahn. Paris, Calmann Lévy, 1896. 30 x 22 cm. Leather-backed marbled boards, original upper and lower wrapper bound in. (4), X, 274 p. With tinted extratext pictures and vignettes by Madeleine Lemaire. First edition. Extremities a little worn. Book block bent, otherwise fine.
€ 1400
* Proust's rare debut, complete with the delicate original wrappers.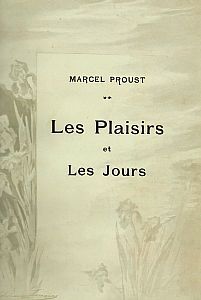 From newsletter 4:
17 PROUST, Marcel À la recherche du temps perdu. Texte en partie inédit établi sur les manuscrits autographes, variantes, notes critiques, introduction. Résumé de chaque partie de l'oeuvre. Index des noms de personnages et des noms de lieux. Chronologie de Marcel Proust par Pierre Clarac et André Ferré. Préface d'André Maurois. Paris, NRF, 1959. Bibliothèque de la Pléiade. 3 volumes. Supple brown leather with original wrappers. XLII, 1010; 1226; 1326 p. Wrappers worn.
€ 90
* The complete cycle with ample notes and indexes.