133 results found
Too much results found. Showing only the 20 most recent. Show all
From newsletter 24:
17 HUYSMANS, J.K. Gegen den Strich (A Rebours). Autorisierte Uebersetzung von M. Capsius. Berlin, Schuster & L?ffler, 1897. Original wrappers (Melchior Lechter). 304 p. Uncut. Cover illustration and author's portrait by Melchior Lechter. First edition. A bit soiled. Tiny date on inside lower cover.
€ 425
* The very rare first translation into German, with Jugendstil design by Lechter printed in red and black.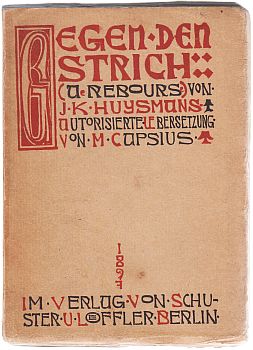 22 MIRBEAU, Octave Dingo. (Inscribed). Paris, Biblioth?que-Charpentier - Eug?ne Fasquelle, 1913. Decoratively marbled boards. (6), 424 p. First edition. Cheap text paper browned. Backstrip a bit worn.
€ 250
* inscribed by Mirbeau to "Docteur Elias/ sympathiquement".
25 (ROPS). GLATIGNY, Albert Le fer rouge. Nouveaux ch?timents. France et Belgique, Chez tous les libraires, 1870 [= Brussels, Poulet-Malassis, 1871]. Original wrappers. (4), 76 p. Uncut. With an original etching by F?licien Rops printed in red. Printed on papier de Hollande. First edition. Spine worn, cover a bit yellowed.
€ 425
* Rare first edition with the added etching, ridiculing Napoleon III and Mar?chal Bazaine who are being branded with a red iron ('fer rouge') because of the Battle of Sedan and the Siege of Metz, while a vulture is sitting on the dead in a prison. This first edition is very rare.
From newsletter 23:
5 BARBER'S BUSINESS CARD Maison Auguste, 46, Passage Jouffroy, 48 sous l'Horloge. (Ca. 1870). Large steel-engraved business card of a barber/ hairdresser in 19th century Paris. Oblong 16 x 25 cm. Printed on one side only. Glue traces on verso. A bit soiled and with a corner crease.
€ 35
* With a detailed 77 x 137 mm steel engraving of the interior showing customers and barbers at work. 'Taille de cheveux 50 c., Barbe 25 c., Coiffure 25 c. Salon vaste et confortable. 10 Toilettes de front.' Lovely!
17 (BUCKLAND-WRIGHT, John). ASDER, H. Keuze. Opgedragen verzen. (With a signed copper engraving by John Buckland Wright). (Den Haag, Boucher, 1939). Loose sheets in a portfolio of heavy laid paper, melinexed. 60 p. Set in Romanée and printed in 50 copies, not for trade. This is one of only 10 grand-luxe lettered copies on Imperial Japanese mother-of-pearl paper. Uncut. Copper engraving (also on Japanese paper) signed in pencil. First edition. Fine.
€ 450
* Resplendent deluxe book of poems by H.A. Sinclair de Rochemont (1901-1942), the founder of the first fascist party of the Netherlands, a friend of 'enfant terrible' artist Erich Wichmann, who is remembered here in a poem in modernist form. With a handwritten dedication by the author to A. van der Minne. A poem was dedicated to him in print ('Het vleugelig lot'). The copper engraving by John Buckland Wright shows a lilylike girl in a translucent dress dancing into a bower. Reid A34a.
30 CLARK, Larry Teenage Lust. New York, self published, 1983. 29 x 23 cm. Original wrappers. 148 p. Photos with an afterword by the photographer (27 p.), dated 1981. First edition. Cover a bit worn, lower wrapper has been folded.
€ 275
* A real cultbook, highly controversial because of the raw pictures of young people and their sex and drugs. There is no bound edition of this book - wrappers only.
31 COLERIDGE, S.T. The Rime of the Ancyent Marinere, in seven parts, by Samuel Taylor Coleridge, now spelled in modern style & embellished with designs by Andre Lhote. Paris, Émile-Paul, 1920. Original wrappers: black tar paper boards covered with a fishing net! (4), 52 p. With a frontispice and nine fantastic vignettes. Printed in 729 numbered copies on Dutch handmade paper (of Van Gelder Zonen). First thus. Fishing net left a brown ghost on endpapers.
€ 50
* Unusual edition of the famous Rime of the Ancient Mariner, illustrated with some surreal designs and printed on heavy handmade paper, wrapped in a rough fishnet.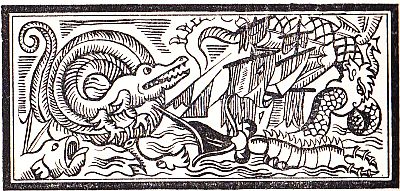 double portrait
38 GRACIÁN, Baltasar Meditazioni sopra la santissima Comunione composte in Lingua Spagnuola dal padre Baldassarre Graziano della Compagnia di Gesù, e tradotta nell' idioma italiano da Francesco de Castro della medesima Compagnia. Venice, Niccolò Pezzana, 1737. 14 x 9 cm. Vellum with calligraphed title on spine. 432 p. Nice inscription on page (2) dated 1737. Excellent condition.
€ 110
* Attractive little translation into Italian of El Comulgatorio (= 'The Altar Rail', 1655), by the Spanish Jesuit priest Gracián (1601-1658), an important prose author of the Baroque period, famous for his collection of maxims Oráculo manual y arte de prudencia or (Hand Oracle of) the Art of Worldly Wisdom. The book is a series of meditations about receiving communion, but this theological subject is treated with much expressivity. It is the last book written by Gracián (except for the third and last volume of El Criticón) and the only one published under his own name. This translation not in Worldcat or in any of the various national libraries, only a 1750 edition in the State Library of Montecassino.

39 HIRSCHFELD, Magnus, (Ed.) Jahrbuch für sexuelle Zwischenstufen mit besonderer Berücksichtigung der Homosexualität. Herausgegeben unter Mitwirkung namhafter Autoren im Namen des wissenschaftlich-humanitären Komitees. 6. Jahrgang. Leipzig, Max Spohr, 1904. Original cloth-backed boards. IV, 744 p. Illustrated. First edition. Binding a bit worn, lower cover slightly soiled. Still a very good copy.
€ 220
* Sixth Yearbook of the voluminous scientific series about (mainly) homosexuality, a real Fundgrube. In this volume a.o. the original version of 'The Uranian before the Church and the Holy Scripture' by Caspar Wirz, the result of very early statistical research by Magnus Hirschfeld about the percentage of homosexuals, medical research of 103 men with a uterus and of 58 menstruating hermaphrodites; the preliminary presentation of a model of sex differences by L.S.A.M. von Römer, an important article about the personality of August von Platen by elusive scientist Ludwig Frey, and last but not least the almost 200 pages of the bibliography of publications about homosexuality in the year of Our Lord 1903.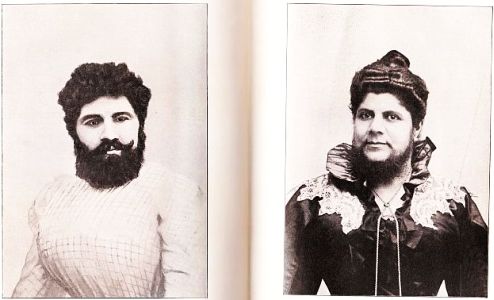 Two bearded women
les cigares charbonnaient
41 (INCUNABLE). SENECA, Lucius Annaeus Opera philosophica. Epistolae. [Venice, Johannes & Gregorius de Gregoriis, de Forlivio, about 1492]. Folio (31,8 x 21,8 cm). 18th century vellum with seven ribs. 237 ff (of 238, lacking only the final blank C10). 60 lines plus head line. Roman type. Capital spaces with guide letters. Binding a bit worn at lower corners, spine soiled and with an old ticket. 18th century bookplate (Joseph Mazarin?). Marginal notes (some trimmed) in a neat cursive contemporary hand, perfectly legible. A bit soiled and some stains. Tiny wormhole in margin starting from leaf cii to the end. A few restorations in margins. Some insignificant pinpoint holes in the text. In all a good copy.
€ 5450
* This attractive incunable contains the philosophical works and letters of Seneca, including his correspondence with Saint Paul (which is in fact a forgery from the 4th century), and also some works of the philosopher's father Seneca the Elder, in the Middle Ages thought to be the son's work. No colophon was printed in this book, the explicit ends with a quire register. Contemporary handwritten title on first blank with the Epitaph of Seneca ('Cura, labor, meritum') as a motto. With some misprints in the pagination and elsewhere (e.g. 'Epitsolarum' instead of 'Epistolarum' on leaf II). BMC, V, 595; Goff S-372, BSB-Ink S-269 (the copy that was used for reproduction has some slight differences in the typesetting). 59 copies in the various libraries (but not in the Dutch).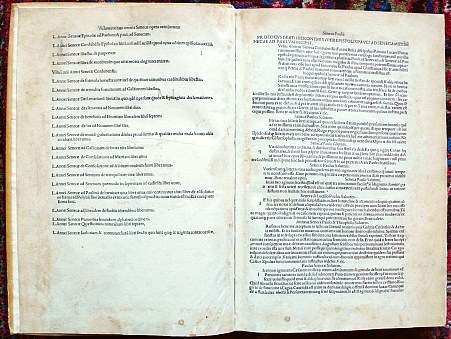 benediction
42 (INCUNABLE). MARCHESINUS, Johannes Mamotrectus super bibliam. Venice, Simon Bevilaqua, 12 July 1492. 8vo (16,2 x 12,2 cm.) Old vellum with written spine title ('Vocabularius Sacrç Script:'). 273 leaves. Printed in two columns in a gothic type. 36 lines. First text page partly printed in RED. Three small woodcut capitals, initial spaces with guide letters and many three-line capitals of a rather different gothic type. Binding stained and soiled, a small piece of the lower outer corner has been torn off. Title page (with just the word 'Mamotrectus') is missing. Pastedowns soiled and damaged. First blank has a handwritten dedication saying something like 'A Monasterij S.te Vittorie/ ad … Vittorii de Portis'. At the last page a drawing of a bowl and a flower vase accompanies the name of a former owner ('Questo libro … thoma…'). Two pages loosening, some soiling and stains at the beginning and end. A few bookworm trails in the margins. In the last three leaves, some letters are missing because of bookworm damage. Several old inscriptions, especially in the vocabulary at the beginning. In two places, the book was strengthened with a narrow strip of vellum from an old manuscript. At the end, part of a benediction leaflet was used to fasten the book block to its binding. Three more identical leaflets plus four strips of a woodcut decoration were used to fill up the binding.
€ 3750
* This is the 21st of the 23 incunable editions of this text, usually called 'Mammotrectus super bibliam', however, in this book consistently spelled with one M: Mamotrectus, without 'super Bibliam'. In the colophon another version of the title is used: Mamotrectus tam bibliae quam aliorum plurimorum librorum. The meaning of this curious title is 'nourisher on the Bible', strongly suggesting 'the Bible's Breast Milk'. It is a handbook explaining words and notions of the Bible and other important texts, such as the letters of Saint Jerome to Paulinus and Desiderius, but also about clothes of priests, Latin accents and other practical subjects. The Mammotrectus would be useful if you were preparing a sermon or some other priestly act. After 1500, its popularity waned and it was criticized and ridiculed by Erasmus and Rabelais. The book starts with an extensive vocabulary of Latin words and their location in the Bible. The main part is the handbook. It ends with an index after the colophon.
This copy is a well-used practical book with several assets, such as the first text page printed in red and black, and its riddles to solve: the inscriptions at the beginning and the end could supply more information about former owners. The four identical benediction leaflets, used for the binding, probably date from the 17th century. They have been printed on one side only in a cursive Garamond, and contain a ritual benediction starting "I.N.R.I. Qui verbum caro factum est".
Although soiled and a bit damaged, it is an unpolished, authentic incunable that doesn't give itself away at first glance. References: Goff M252; BMC V 517; BSB Ink M-167; GW M20814.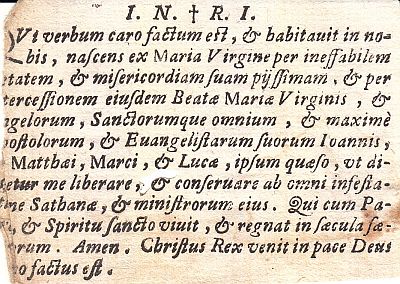 human acorns
44 IONESCO, Eugène Théâtre. (Inscribed). Paris, Gallimard, (1954). Original wrappers. 332 p. First edition printed 'S.P.' a review copy. Cover partly loose, browned.
€ 65
* Signed inscription by Ionesco on halftitle to author and translator M.J. Premsela, dated 'Paris, 7.X.1954'. With a tiny note by Premsela on the flyleaf, probably about a review. Several ballpoint markings in the text.
49 MARTIN, Don Typescript Letter Signed to Flemish poet Gust Gils, 1962. Bond typing paper. 26,7 x 18,5 cm. Recto only. With MAD heading in red and black and New York address. Dated 'January 11, 1961' (= 1962) and signed with a thick felt tip pen. 22 lines. With headed MAD envelope and cancel stamp with the face of MAD's mascot Alfred E. Neuman, dated Jan 11, 1962. With carbon copy of the original letter by Gust Gils, dated 'december 14th, 1961'.
€ 225
* In a well-written, nice and personal letter, Gils asks Don Martin if he would give permission to print some of his drawings in a Flemish paper. He also asks for Martin's portrait. But Don Martin politely declines. His work only appears in MAD and its editors insist he keeps the readers in the dark. 'They'd be disillusioned to learn that I don't have floppy feet and dangling arms. Actually, I'm thirty years old and look like a normal, clean-cut American male; whatever that may mean to you. Perhaps you've never thought of any Americans as normal or clean-cut.' Also about his own projects. In his 27-line letter, Gust Gils describes himself as a poet of the post-war 'avant-garde', and adds a four-line poem translated into English by himself: 'Someone climbs a pile of crates'... Substantial, funny ensemble!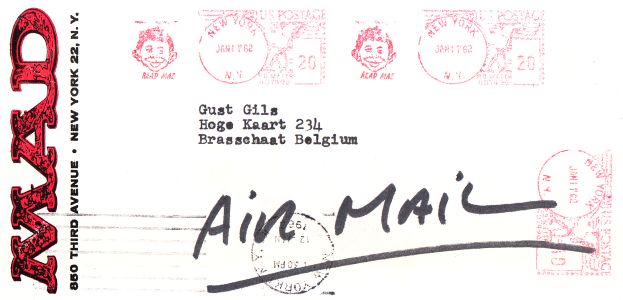 tainted with incest
57 (ONANISMUS). SALZMANN, Christian Gotthilf Ueber die heimlichen Sünden der Jugend. Leipzig, Friedrich Christian Wilhelm Vogel, 1819. Leather-backed boards. VIII, 232 p. Telling title engraving with a young man in a bleak wood, contemplating a foot-long cockroach. 4th edition. Copy from the Kinderbesserungsanstalt zu Dresden ('Child Correction Institute in Dresden') with stamps and some other marks on the first few pages. Cover somewhat worn, but inside condition very good.
€ 140
* Interesting anti-masturbation book by the German educationalist Salzmann (1744-1811) in the tradition of Onania, or the Heinous Sin of self-Pollution. First published 1785.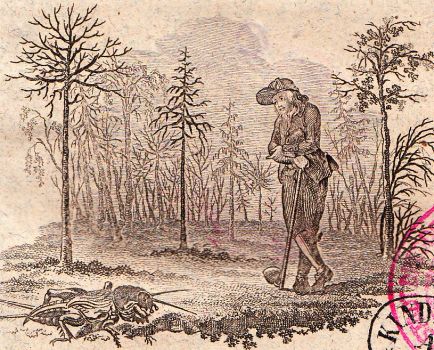 constant anxiety
58 (ONANISMUS). TISSOT, S.A.A.D. L'Onanisme. Dissertation sur les Maladies produites par la Masturbation. Troisième édition considerablement augmentée. Paris, Didot le Jeune, 1765. 16 x 10 cm. Marbled boards with paper spine label. (2), xxiv, 264 p. Edges marbled in red. Third edition. Bookplate removed from inside upper cover. A little wear, but an attractive book.
€ 190
* Early edition of this epochal work, that installed a constant anxiety in generations of adolescents. Nice little vignette on title page. With an extensive preface dated 1764 and greatly enlarged compared to the first Latin edition (1758) and the first in French (1760).
62 PANTER, Gary, & Mark BEYER Panter versus Beyer. (Paris), CBO Editions, 2003. 46 x 33 cm. Original wrappers with 20 p. including covers loosely inserted. Large format multicolor screen prints. Printed in 100 numbered copies. First edition. Fine condition.
€ 225
* This huge art publication by two influential American cartoon artists contains 16 screen prints, of which 4 double-page.
old earth man
68 SAGITTA (= John Henry MACKAY) Die Buecher der namenlosen Liebe. Neue Gesammt-Ausgabe. Self-published, 1924. 16,5 x 12 cm. Cloth with dust jacket and slipcase. 488 p. Fine copy complete with the often missing original green unprinted dust jacket. Inserted are two printed advertorial leaves, one ('Dies ist eine Satz-, Schrift- und Papierprobe') containing Sagitta's poem 'Gieb die Hand mir...'. Edges of slipcase and spine section of dust jacket a bit worn and discolored.
€ 140
* The revised, definitive edition of the first six of SAGITTA'S BUECHER DER NAMENLOSEN LIEBE ('Sagitta's Books of Nameless Love'). One of 2000 copies, numbered (possibly by the author himself!) both on the printed ticket of the slipcase and in the book. Contents: Vorwort (=Preface for this edition) - Die namenlose Liebe - Wer sind wir? - Fenny Skaller - Über die Stufen von Marmor - Am Rande des Lebens - Gehoer! Nur einen Augenblick! That is, a coming out prose text, two volumes of verse, a full-fledged, intensely touching gay novel, a play and a political pamphlet. The preface recounts the history of Mackay's mighty one-man's fight with homophobia. Of the book publications under Mackay's pseudonym Sagitta during his lifetime (1864-1933) this is the sixth: SAGITTA 06 (1924).
72 (SHOESMITH, Kenneth) Royal Mail List of Passengers (of R.M.S. Asturias). (London, Royal Mail Lines, 1939). Original wrappers. 36 p. Printed in black and blue. With vignettes. Small stain at the foot of the first pages, otherwise fine.
€ 45
* Elegant brochure designed by marine painter Kenneth Shoesmith with a delightful color picture of R.M.S. Asturias for a South-American decor as a cover illustration (over both sides). Vignettes by the same artist. The Asturias brought passengers from Southampton, Cherbourg, Portugal, Madeira and Brazil to Uruguay and Argentina, arriving on June 28, 1939.
freezing humor
76 THELEN, Albert Vigoleis Runenmund. Gedichte. (Munich, Theodor Klüber), 1963. 30 x 21 cm. Morocco-backed boards. 36 leaves bound as a block book with four protection leaves of handmade Japanese paper. Printed in red and black in 150 signed and numbered copies. 30 Roman numbered copies were published under the aegis of the Eugen Diederichs Verlag. First edition. Corners slightly bumped.
€ 125
* A large book of poems, unusual in its appearance. With a folded gift card from the publisher.
77 UG Block. [Paris], CBO editions, [2002]. Entirely screen-printed. 21 x 11 cm. 10 p. leporello with covers. Printed in 100 numbered copies.
€ 65
* Robotic screenprints by UG (Philippe Huger).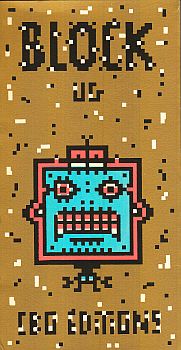 pop-up