2 results found
From newsletter 3:
2. DONNE, John A Valediction Forbidding Mourning. Written by John Donne to his Wife upon his departing for France in 1611. Staplehurst, Kent, The Florin Press, 1981. Original wrappers with flaps. 8 p. Unopened. Printed in ochre and black in 175 copies, all numbered and signed by the printer/engraver. This is one of 150 copies on Unbleached Arnold and sewn into a wrapper of Fabriano Ingres. With a wood engraving (encompassing the initial word 'As') by Graham Williams, 'who also printed this keepsake'.
€ 25
* Fine book production. This happens to be nr. 100.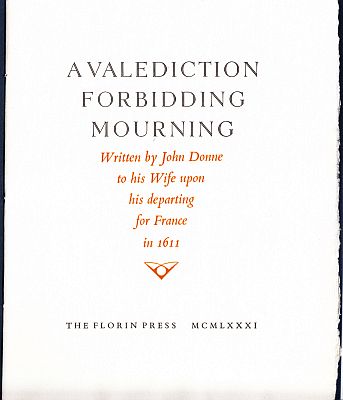 20. WILLIAMS, Graham Double Crown Club. Dinner 286. [Staplehurst, Kent, The Florin Press, 1986]. 25 x 17 cm. Wrappers. 8 p. Printed in red and black. Illustrated with two wood engravings by Graham Williams and nine printer's marks. First edition. Fine copy.
€ 30
* Menu for the Double Crown Club Dinner 286. Williams made two nice wood engravings (one in color) for this humorous publication. He added a tiny sheet, 'Errata egregia' about the various mistakes in the menu, with another nice tiny wood engraving and a printer's mistake corrected in red pencil. It is signed 'Grhaam Wiiliams'!