111 results found
Too much results found. Showing only the 20 most recent. Show all
From newsletter 24:
3 (BINDING by Lucien BROCA). BARKER, W.R. St. Mark's, or the Mayor's Chapel, Bristol, Formerly Called the Church of the Gaunts. Bristol, W.C. Hemons 1892. Small 4to. Richly gilt full morocco (signed L. Broca on inside upper cover). One of 200 numbered large paper copies. First edition. One lower corner bumped, very slight wear along the spine. Engraved bookplate of Alfred Trapnell, little leather label with a number (1203) and a small ticket mentioning Broca. Some browning of inside edges.
€ 650
* Splendorously gilt binding by French-born brilliant British bookbinder Broca, copying the gothic rose window in St. Mark's Church on both sides of the book. Alfred Trapnell (1838-1918), a Bristol industrialist, built a large porcelain collection as well as a sumptuous library.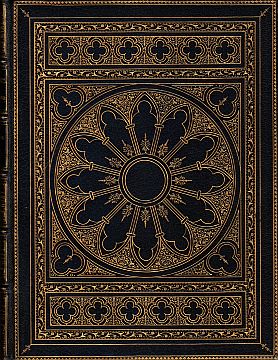 4 (BINDING). MORAND, Paul Tendres Stocks. Avec une pr?face de Marcel Proust et des gravures de Chas Laborde. Paris, Emile-Paul Fr?res, 1924. 25 x 18 cm. Three-quarter morocco with green-gilt marbled boards. Top gilt. (4), XXII, 112 p. Original wrappers bound in. One of 475 copies on BFK Rives paper. Spine just a little paler than the sides, otherwise fine.
€ 450
* Beautifully bookbinding (not signed), spine richly gilt and inlaid with pink leather. Three stories illustrated with very attractive colored engravings, partly full page. An exquisite book!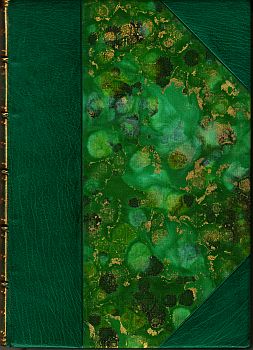 6 (BUCKLAND WRIGHT, John). GAUTIER, Theophile Mademoiselle De Maupin. A Romance. Translated by R. & E. Powys Mathers. London, The Golden Cockerel Press, [1938]. 26 x 19,5. Original cloth boards with vellum spine (Sangorski & Sutcliffe with their stamp). Top gilt. 288 p. Uncut. Set in Perpetua and printed in blue and black on Van Gelder paper in 500 numbered copies. Binding slightly soiled and with a bit of foxing in the text.
€ 220
* With 8 refined, subtly erotic copper engravings by John Buckland Wright.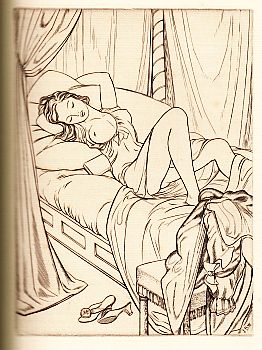 8 (CHINA). BREDON, Juliet Chinese New Year Festivals. A Picturesque Monograph of the Rites, Ceremonies and Observances in relation thereto. Six Illustrations in Colour-photogravure from Selected Chinese Paintings. Shanghai, Kelly and Walsh Ltd., 1930. 32 x 26 cm. Rebound using original gilt silk binding with a new cloth spine and new endpapers. Beveled edges. (36) p. Uncut. Printed in scarlet and black with decorations (sights of China) in grey. First edition. Edges worn and with some stains, a bit discolored.
€ 475
* Sumptuous large and attractive deluxe book printed in Shanghai. Not perfect, but the book restorer has done an excellent job.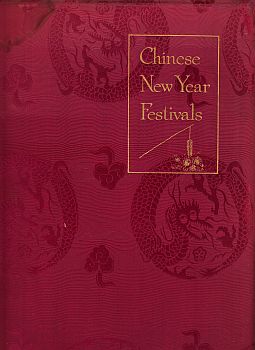 19 (INCUNABLE). CICERO, Marcus Tullius Tusculanae disputationes. Cum commento. Venice, [Antonius de Strata], December 5, 1492. 29,5 x 21 cm. Vellum-backed boards with title label (20th century). 58 leaves. First blank with some handwritten notes of a slightly later date (citations of Quintillian and Juvenal) and owner's inscription 'Joannes antonius de paula'. Some repairs and humidity stains. Tiny worm holes with loss of a few letters. With one handwritten guide letter, no initials or rubrication. Marginal notes, hands, lines and some inkstains, partly cut short.
€ 3450
* Philosophic disputations in the city of Tusculum. Attractive incunable: text between commentaries in narrower colums. Complete. Pleasant modern binding. Goff C638; BSB C-406.
20 LIVIUS, Titus Historiarum ab urbe condita. Libri qui supersunt XXXV. Recensuit J.N. Lallemand. (Complete in 7 volumes). Paris, Barbou, 1775. Marbled full calf with richly gilt spines and title tickets. Portrait in vol. I. Fine bindings lined with gold, marbled endpapers, all edges gilt. Some spine wear, fairly light in most cases, only vol. III is a bit damaged and repaired.
€ 325
* This series of seven attractive books has been printed by J.-G. Barbou in Paris, who published many classical authors in charming duodecimo editions, usually bound in marbled calf with stylishly gilt spines: in this case 4 larger French lilies each surrounded by 4 smaller ones. Beautifully printed in roman and cursive types on fine paper, partly a bit bluishly tinted. With extensive indexes.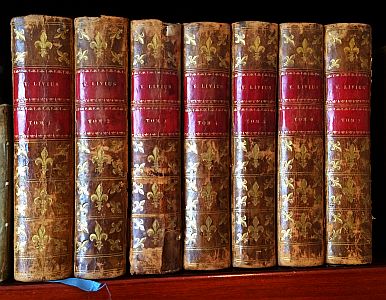 From newsletter 23:
antiquariaat Fokas Holthuis - PAULBOOKS
(Fokas Holthuis & Paul Snijders)
Postbus 18604, 2502 EP Den Haag
The Netherlands
telephone +3170-346 6020 - cellphone +316-4190 9323
email paulsn@ziggo.nl
www.paulbooks.nl - Dutch section www.fokas.nl
Newsletter 23 = Catalog 64 (October, 2013)
Cycling Sybils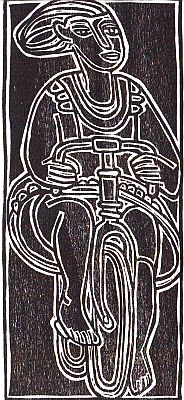 Illustration from Nr. 70 of this list
Some subjects
Bindings 8-11
John Buckland Wright 13-29
Incunables 41-43
Onanismus 57-60
Minibooks 70-71
Salvage 74
Painting 75
Vordemberge-Gildewart 79-80
Werkman 81-92
Transport 4, 72, 97
CBO editions 62, 77, 78
1 ALLERS, Christian Wilhelm Capri. München, Hanfstaengel, [1892]. 38 x 31 cm. Large book with 48 leaves containing 61 reproductions of the minutely detailed naturalistic drawings by Allers. Printed in various colors. First edition. Spine a bit worn, binding a bit spotted, corners bumped, but gilt decoration and lettering in excellent condition. Inside some foxing at the gutter, name on first page. Some pages loosening. Not perfect, but a quite acceptable copy.
€ 200
* Christian Allers (1857-1915) was famous for his refined, realistic drawings, published in large books starting in 1885. Allers lived on Capri from 1892. This voluminous book was his joyful tribute to the island, full of lively portraits and landscapes.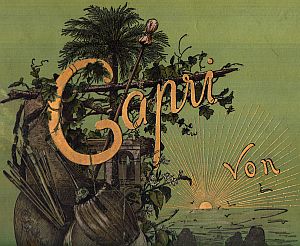 2 ALLERS, Christian Wilhelm Hochzeitsreise nach Italien. Stuttgart, Berlin & Leipzig, Union Deutsche Verlagsgesellschaft, [1896]. 34 x 45 cm. Large oblong portfolio with 22 leaves (3 double) containing 45 pages printed with collotype ('Lichtdruck') reproductions of the highly detailed naturalistic drawings by Allers. Some drawings in colors. First edition. Spine worn at the outside and the inside, but the rest of the binding is in good condition. Some foxing, especially at the beginning.
€ 150
* Humorous pictorial account of a Honeymoon Trip to Italy of a German couple, with very fine views of Milan and Venice. One of the nicest and largest of Allers's popular book productions. Allers was implicated at the Krupp scandal at Capri (1902). He had to flee from Italy and the last twelve years of his life were spent restlessly travelling the world.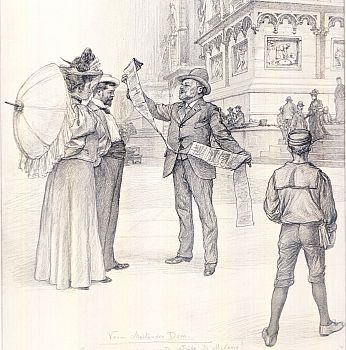 abcdefghijklmnopqrstuvwxyz
8 (BINDING). HOHMANN, Joseph Das Wilhelms-Hospital in Fulda. Ein poetischer Versuch. Fulda, Amand Ney, 1841. Contemporary white richly silk gilt in two shades of gold, pale and yellow, with birds, flowers and garlands in a double border on both sides (not identical). Endpapers in pink patterned paper. All edges gilt. 8 p. With depiction of the hospital. First edition. This extremely delicate binding is in very good condition: only a little wear on corners and gilt border.
€ 190
* This hospital had been founded in 1806 by the Prince of Orange-Nassau, later to become King William I of the Netherlands (1771-1843). This binding was reportedly made for a Dutch royal person and sometime sold from the library of Queen Emma of the Netherlands (1858-1934), mother of Queen Wilhelmina.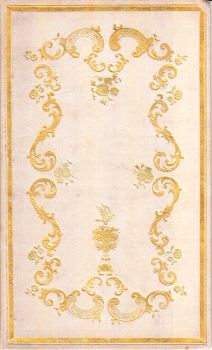 pigskin
9 (BINDING). COOL, Wouter Les installations mécaniques du Port de Rotterdam. Conférence dans l'assemblée extraordinaire du 'Koninklijk Instituut van Ingenieurs', à l'occasion de la visite de l'Association des Ingenieurs sortis de l'École de Liège, le 26 juin 1911. Den Haag, F.J. Belinfante, formerly A.D. Schinkel, (1911). Offprint from the technical weekly De Ingenieur, 21 october 1911, no. 42. Gilt pigs leather. Original upper wrapper bound in. 48 p. With 35 illustrations of cranes and other industrial equipment, and two folding charts. First edition. Fine condition.
€ 275
* Exquisite bookbinding of white pigskin, richly gilt on upper cover (coat of arms of Rotterdam and the year MDCCCCXI in a double frame), gilt double frame on lower cover, gilt turn-ins with art-nouveau motif, mirrors of dark green moiré silk, all edges gilt. This very unusual, one-of-a-kind binding has not been signed. Text of a conference about the mechanical installations of the port of Rotterdam.
10 (BINDING). GOGOL, Nicolas La foire de Sorochinietz. Traduction de Jarl-Priel. Eaux-fortes originales de Véra. Paris, Éditions Galathea, 1945. Folio (32 x 26 cm). Gilt full black morocco (J. Brandt & Zoon). (4), 88 p. With 13 original etchings. Printed in red and black in 300 numbered copies. This is one of 219 on Pur Fil Johannot. Small grey stain on lower cover and a little wear on spine. Inside paper edges a bit tanned where it's kissed by the leather. Otherwise in fine condition.
€ 250
* Magnificent binding with the intricate gilt monogram of collector W. van Spaendonck designed by J. van Krimpen. Signed with a JB&Z monogram on the inside lower cover. Lively Russian farmers' fair etchings.
mother-of-pearl
11 (BINDING). STEVENSON, R.L. Virginibus Puerisque and Other Papers. London, Chatto & Windus, 1906. Full vellum (Cedric Chivers) with slipcase. Gift inscription on flyleaf dated 1907 from P.L.R. to Daisy.
€ 1250
* Resplendent VELLUCENT VELLUM binding signed by innovative bookbinder Cedric Chivers of Bath (1853-1929, later Mayor of Bath) inlaid with mother-of-pearl. The monogram DEAS inside and the delicately painted daisies on the upper cover probably refer to the Daisy of the flyleaf. Formerly in the vast collection of Dutch author Boudewijn Büch.
13 (BUCKLAND WRIGHT, John). BRAAK, Menno ter Het tweede gezicht. (Collected essays). (With a signed wood engraving by John Buckland Wright). Den Haag, (L.J.C. Boucher), 1935. Black morocco with 4 ribs (spine discolored). Top gilt. Printed by Boosten & Stols in 620 copies. (2), X, 268 p. First edition. Tiny stamp on inside lower cover: 'ex bibliotheca johan b.w. polak'.
€ 900
* One of 20 deluxe copies on handmade Vélin Vidalon. This is nr. XIII, one of 15 for sale. Signed under the colophon by Ter Braak, the wood engraving signed by John Buckland Wright.According to Reid A17, the copies not for sale (XVI-XX) were bound in black morocco and of the others some were bound in green morocco, the others only sewn in wrappers. A solemnly exquisite binding, this copy was probably bound by Louis Malcorps. Folemprise V. Reid A17.
loving couples
24 (BUCKLAND-WRIGHT, John). KEATS, John The Collected Sonnets. (With 11 wood engravings by John Buckland Wright). Maastricht, The Halcyon Press/ A.A.M. Stols, 1930. Original cloth. Set in Romanée and printed in 376 numbered copies. Binding a bit browned, corners worn. First and last pages a bit foxed.
€ 180
* The first book illustrated by Buckland Wright, with sinister art-deco wood engravings. Reid A1. The Halcyon Press 7. Van Dijk 214.
See illustration at the end of this newsletter
25 (BUCKLAND-WRIGHT, John). KEATS, John Letters of John Keats to Fanny Brawne. With three poems and three additional letters. Introductory Note by J.F. Otten. (With a wood engraving by John Buckland Wright). Maastricht, The Halcyon Press (A.A.M. Stols), 1931. Gilt cloth. (12), 120 p. Printed in 356 numbered copies. Binding a bit dulled.
€ 45
* Cover design also by Buckland Wright. The Halcyon Press 11. Van Dijk 246. Reid A6b.
39 HIRSCHFELD, Magnus, (Ed.) Jahrbuch für sexuelle Zwischenstufen mit besonderer Berücksichtigung der Homosexualität. Herausgegeben unter Mitwirkung namhafter Autoren im Namen des wissenschaftlich-humanitären Komitees. 6. Jahrgang. Leipzig, Max Spohr, 1904. Original cloth-backed boards. IV, 744 p. Illustrated. First edition. Binding a bit worn, lower cover slightly soiled. Still a very good copy.
€ 220
* Sixth Yearbook of the voluminous scientific series about (mainly) homosexuality, a real Fundgrube. In this volume a.o. the original version of 'The Uranian before the Church and the Holy Scripture' by Caspar Wirz, the result of very early statistical research by Magnus Hirschfeld about the percentage of homosexuals, medical research of 103 men with a uterus and of 58 menstruating hermaphrodites; the preliminary presentation of a model of sex differences by L.S.A.M. von Römer, an important article about the personality of August von Platen by elusive scientist Ludwig Frey, and last but not least the almost 200 pages of the bibliography of publications about homosexuality in the year of Our Lord 1903.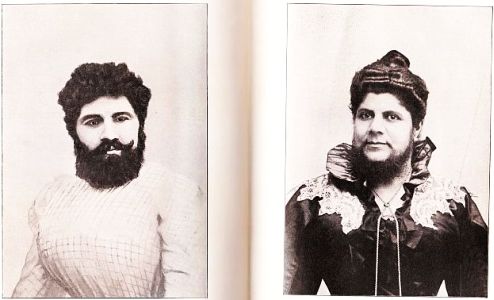 Two bearded women
les cigares charbonnaient
40 HUYSMANS, J.K. En ménage. Parijs, Charpentier, 1881. Cloth-backed marbled boards (modern private binding). (4), 348 p. First edition. Ink inscription on flyleaf. Some foxing.
€ 250
* This copy has a handwritten, signed dedication by the author on the first page: 'A. M. Jan ten Brink/ son confrère/ J.K. Huysmans'. Ten Brink (1834-1901), an almost forgotten author (but a mentor of Couperus and Emants) had contacts with many French authors.
cura, labor, meritum
41 (INCUNABLE). SENECA, Lucius Annaeus Opera philosophica. Epistolae. [Venice, Johannes & Gregorius de Gregoriis, de Forlivio, about 1492]. Folio (31,8 x 21,8 cm). 18th century vellum with seven ribs. 237 ff (of 238, lacking only the final blank C10). 60 lines plus head line. Roman type. Capital spaces with guide letters. Binding a bit worn at lower corners, spine soiled and with an old ticket. 18th century bookplate (Joseph Mazarin?). Marginal notes (some trimmed) in a neat cursive contemporary hand, perfectly legible. A bit soiled and some stains. Tiny wormhole in margin starting from leaf cii to the end. A few restorations in margins. Some insignificant pinpoint holes in the text. In all a good copy.
€ 5450
* This attractive incunable contains the philosophical works and letters of Seneca, including his correspondence with Saint Paul (which is in fact a forgery from the 4th century), and also some works of the philosopher's father Seneca the Elder, in the Middle Ages thought to be the son's work. No colophon was printed in this book, the explicit ends with a quire register. Contemporary handwritten title on first blank with the Epitaph of Seneca ('Cura, labor, meritum') as a motto. With some misprints in the pagination and elsewhere (e.g. 'Epitsolarum' instead of 'Epistolarum' on leaf II). BMC, V, 595; Goff S-372, BSB-Ink S-269 (the copy that was used for reproduction has some slight differences in the typesetting). 59 copies in the various libraries (but not in the Dutch).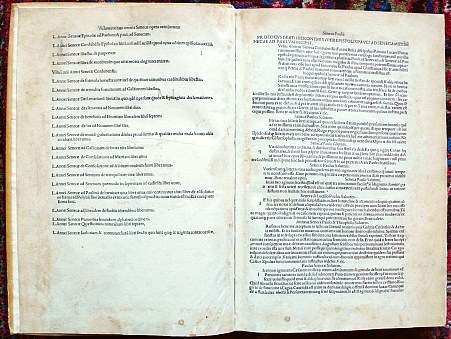 benediction
42 (INCUNABLE). MARCHESINUS, Johannes Mamotrectus super bibliam. Venice, Simon Bevilaqua, 12 July 1492. 8vo (16,2 x 12,2 cm.) Old vellum with written spine title ('Vocabularius Sacrç Script:'). 273 leaves. Printed in two columns in a gothic type. 36 lines. First text page partly printed in RED. Three small woodcut capitals, initial spaces with guide letters and many three-line capitals of a rather different gothic type. Binding stained and soiled, a small piece of the lower outer corner has been torn off. Title page (with just the word 'Mamotrectus') is missing. Pastedowns soiled and damaged. First blank has a handwritten dedication saying something like 'A Monasterij S.te Vittorie/ ad … Vittorii de Portis'. At the last page a drawing of a bowl and a flower vase accompanies the name of a former owner ('Questo libro … thoma…'). Two pages loosening, some soiling and stains at the beginning and end. A few bookworm trails in the margins. In the last three leaves, some letters are missing because of bookworm damage. Several old inscriptions, especially in the vocabulary at the beginning. In two places, the book was strengthened with a narrow strip of vellum from an old manuscript. At the end, part of a benediction leaflet was used to fasten the book block to its binding. Three more identical leaflets plus four strips of a woodcut decoration were used to fill up the binding.
€ 3750
* This is the 21st of the 23 incunable editions of this text, usually called 'Mammotrectus super bibliam', however, in this book consistently spelled with one M: Mamotrectus, without 'super Bibliam'. In the colophon another version of the title is used: Mamotrectus tam bibliae quam aliorum plurimorum librorum. The meaning of this curious title is 'nourisher on the Bible', strongly suggesting 'the Bible's Breast Milk'. It is a handbook explaining words and notions of the Bible and other important texts, such as the letters of Saint Jerome to Paulinus and Desiderius, but also about clothes of priests, Latin accents and other practical subjects. The Mammotrectus would be useful if you were preparing a sermon or some other priestly act. After 1500, its popularity waned and it was criticized and ridiculed by Erasmus and Rabelais. The book starts with an extensive vocabulary of Latin words and their location in the Bible. The main part is the handbook. It ends with an index after the colophon.
This copy is a well-used practical book with several assets, such as the first text page printed in red and black, and its riddles to solve: the inscriptions at the beginning and the end could supply more information about former owners. The four identical benediction leaflets, used for the binding, probably date from the 17th century. They have been printed on one side only in a cursive Garamond, and contain a ritual benediction starting "I.N.R.I. Qui verbum caro factum est".
Although soiled and a bit damaged, it is an unpolished, authentic incunable that doesn't give itself away at first glance. References: Goff M252; BMC V 517; BSB Ink M-167; GW M20814.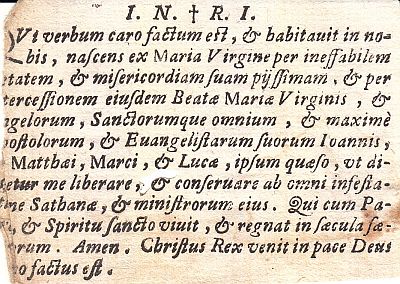 human acorns