6 results found
From newsletter 24:
17 HUYSMANS, J.K. Gegen den Strich (A Rebours). Autorisierte Uebersetzung von M. Capsius. Berlin, Schuster & L?ffler, 1897. Original wrappers (Melchior Lechter). 304 p. Uncut. Cover illustration and author's portrait by Melchior Lechter. First edition. A bit soiled. Tiny date on inside lower cover.
€ 425
* The very rare first translation into German, with Jugendstil design by Lechter printed in red and black.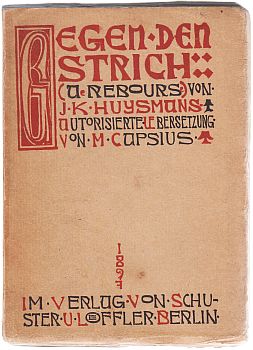 From newsletter 23:
40 HUYSMANS, J.K. En ménage. Parijs, Charpentier, 1881. Cloth-backed marbled boards (modern private binding). (4), 348 p. First edition. Ink inscription on flyleaf. Some foxing.
€ 250
* This copy has a handwritten, signed dedication by the author on the first page: 'A. M. Jan ten Brink/ son confrère/ J.K. Huysmans'. Ten Brink (1834-1901), an almost forgotten author (but a mentor of Couperus and Emants) had contacts with many French authors.
cura, labor, meritum
From newsletter 8:
15 (HUYSMANS, J.K.). DEFFOUX, Léon J.-K. Huysmans sous divers aspects. Notes, textes oubliés, references et bibliographie. Avec quatre lithographies d'Odilon Redon. Paris, Éditions G. Crès & Cie., 1927. Original wrappers. (8), 148 p. Uncut. Of an edition of 575 numbered copies, this is one of 550 on vélin de Sorel-Moussel. First edition. Cover a bit worn, backstrip browned. Loosening.
€ 90
* One of the Redon prints is in colors, three are in black-and-white.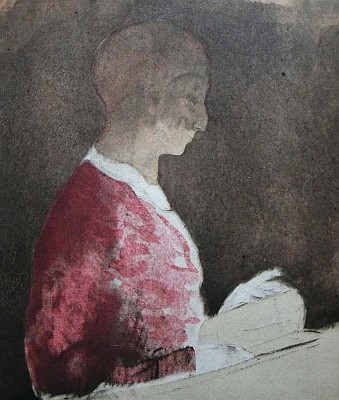 16 HUYSMANS, J.K. A vau l'eau. (With an etched portrait of the author by A. Delâtre). Paris, Tresse & Stock, 1894. 14 x 9,5 cm. 3/4 morocco, spine with 5 ribs, top gilt. Original wrappers bound in (Louis MALCORPS). Uncut. 144 p. Partly a bit discolored, some foxing. Bookplate of Bob Luza.
€ 600
* INSCRIBED by Huysmans to the famous Dutch 'Tachtiger' poet Willem Kloos (1869-1938). A curious detail: Willem Kloos didn't like Huysmans at all, as testifies his famous tongue-lashing sonnet 'Tegen J.K. Huysmans', in Verzen (1894). The first edition of À vau l'eau was published by Henri Kistemaeckers in Brussels, 1882. This inscribed copy is not mentioned in the auction catalogue of Kloos's monumental library or in the catalogue of Bob Luza's extensive book collection. A remarkable dedication copy in an attractive, classical bookbinding by Louis Malcorps!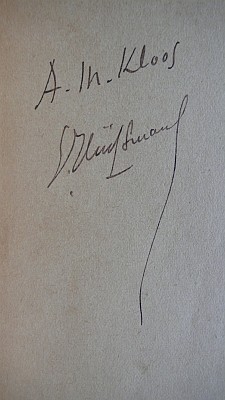 17 HUYSMANS, J.K. La Bièvre. Avec vingt-trois dessins et un autographe de l'auteur. Paris, L. Genonceaux, 1890. Original paper wrappers. (2), 46 p. With illustrations by various artists. First edition. Backstrip somewhat worn, binding a bit loose.
€ 125
* Poetic monography with various old pictures of the little river Bièvre that flows into the Seine in Paris (near the Gare d'Austerlitz).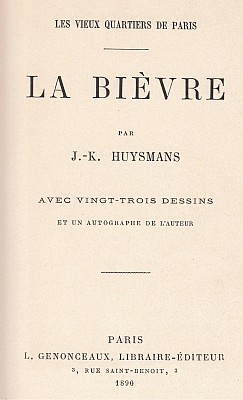 18 HUYSMANS, J.K. Un dilemme. Paris, Tresse & Stock, 1887. 14 x 10 cm. Richly gilt 3/4 leather binding with gilt marbled paper. (4), 144 p. Original upper and lower wrappers plus backstrip bound in, upper wrapper repaired. First edition. First and last page browned. With two owner's stamps 'Ex libris Maurice Miller'. Excellent condition.
€ 190
* Rare first edition of this novelette in a deluxe binding, a little gem of a book.