2 results found
From newsletter 19:
20. MOORE, T. Sturge Nine poems. London, The Halcyon Press, 1930. Original cloth. Uncut. 38 p. Set from Lutetia type, printed in red and black on Pannekoek paper in 125 numbered copies. Flyleaves slightly foxed.
€ 22
* Publisher's address on title page: 'The Halcyon Press/ 101, Great Russell Street/ London W.C. I'. A number of copies had 'Maastricht' as imprint. Van Dijk 218.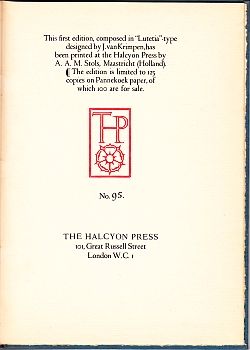 21. MOORE, T. Sturge Selected Poems. Edited by Marie Sturge Moore. London, Macmillan, 1934. 8vo. Decorated cloth with dust jacket. x, 210 p. Embossed cover after a design by Charles Ricketts. With damaged dust jacket of the same design. First edition. Tiny spots on the edge.
€ 15