4 results found
From newsletter 17:
6. HANLEY, James, Havelock ELLIS, Rhys DAVIES, & Norman DAVEY A Passion before Death; Kanga Creek; A Bed of Feathers; The Penultimate Adventure. New York/ London, The Black Hawk Press, 1935. Cloth with dust jacket. Fine copy, jacket a bit browned and damaged. Four novels, each with a tipped-in frontispice, printed in 902 copies only, each in a fine 'modern' Art Deco style. All four books published in 1935, but this collected edition was probably bound later using unsold copies. Illustrations by Dolice, Jacob Krakowsky (Jack Krakow) and John Gram. Collected in one volume in publisher's light blue cloth with richly gilt spine, and with dust jacket (covered in mylar), a bit browned along the edges.
€ 40
* Havelock Ellis: Kanga Creek; James Hanley: A Passion before Death; Rhys Davies: A Bed of Feathers; Norman Davey: The Penultimate Adventure.
Kanga Creek includes 'Biographical Memoir in the Form of An Imaginary Conversation Between Havelock Ellis, a Young Doctor Without a Practice, and Olive Schreiner a Young Woman without a Husband' by Norman Lockridge. The Black Hawk Press was owned by Samuel Roth (1894-1974, one of his pseudonyms: Norman Lockridge), i.a. publisher of the American Aphrodite magazine.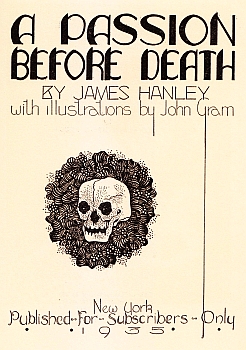 7. HANLEY, James Boy. Paris, The Obelisk, 1946. Original wrappers. 176 p. Wrappers a bit discoloured, but a very good copy.
€ 15
* 'In this, his second novel, the author of DRIFT tells the short life-story of Arthur Fearon, schoolboy and idealist, who ships as a stowaway on a Liverpool tramp in order to escape the sordid hardships of his slum existence'. A sad book, first published 1931.

From newsletter 13:
10. HANLEY, James Le Tourbillon. Roman. Drift traduit de l'Anglais par Jean Périer. Paris, Éditions Corrêa, 1952. Original wrappers. 272 p. Uncut. One of 20 numbered copies on Alfa Mousse paper. First edition/ Édition originale. Backstrip shows reading creases, short split at tail of front hinge. Lower cover creased and with some edge tears.
€ 100
* Deluxe edition of the French translation of Drift (1930), Hanley's first novel, set among Irish in Liverpool. The protagonist is a working boy who reads Zola and Joyce - like James Hanley himself had been. One of only twenty copies on quality paper, in Corrêa's collection 'Le Chemin de la Vie' directed by Maurice Nadeau, who also included works by Himes, Lowry and Miller. With a 4-page preface by Nadeau (who is still alive at 99 years old).
From newsletter 5:
4 HANLEY, James Resurrexit Dominus. (No place, privately printed), 1934. Vellum with leather title label. Top edge gilt. Uncut. Printed in red and black on English handmade paper in 99 copies, numbered and signed by the author (plus 11 for representation). First edition. Unobtrusive stains at the foot.
€ 200
* A stern and sturdy book. A bitter tale about an Irish country girl seduced by a devious priest. Both die in a most dramatic and unexpected way.