2 results found
From newsletter 3:
8. MASEFIELD, John Sard Harker. A Novel. London, William Heinemann, 1924. Cloth with dust jacket. (8), 332 p. First edition. DJ subtly repaired at the inside. Spine area of jackeet discolored, some soiling and tiny tears. Book in very good condition, flyleaves a bit foxed.
€ 30
* Very rare and intriguing dust jacket: two hairy hands reaching for a large bouquet of blue flowers. With a list of recently published books by Masefield and a list of new publications by Heinemann in the autumn of 1924.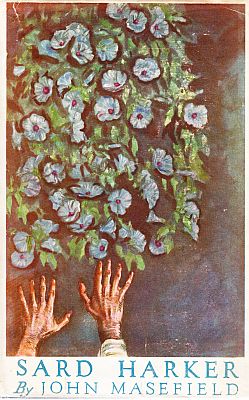 9. MASEFIELD, John Three original press photos from 1930-1933. 15 x 21 and 20 x 25 cm. With press organisation stamps and captioned tickets with red crayon lines at the reverse. Slight creases and other little signs of wear, but in a general very good condition.
€ 100
* The first photo, dated May 12 1930, shows Masefield apparently caught unaware in an old suit, in front of a house, with elucidating text on verso 'John Masefield, whose adventurous career included service as a common sailor and porter in a New York pre-prohibition saloon, and who was today appointed Poet Laureate of England'. The second, dated May 22, 1930, shows Masefield and his daughter Judith feeding their two donkeys on his estate near Oxford, England. The third, dated Jan 6, 1933, shows Mr and Mrs Masefield 'as they arrived on the S.S. Mauretania today' in New York.