antiquariaat Fokas Holthuis - PAULBOOKS
(Fokas Holthuis & Paul Snijders)
Postbus 18604, 2502 EP Den Haag
The Netherlands
telephone +3170-346 6020 - cellphone +316-4190 9323
email paul@fokas.nl

Newsletter 2 (May 12, 2010)

Spaghettiana and other Fantasies
- 20 varied items -


1 AVELINE, Claude Examen. Den Haag, (A.A.M. Stols), 1925. 17 x 14 cm. Original wrappers. 24 p. Printed on in red and black in 100 numbered copies, signed by the author and the publisher. First edition. Backstrip torn. Cover partly browned.
€ 35
* Inscribed by Stols, the Dutch printer and publisher: 'Exemplaire de A.J.G. Verster'.
A pretty and delicate little book! Series To the happy few 7. Van Dijk (Stols bibliography) 36.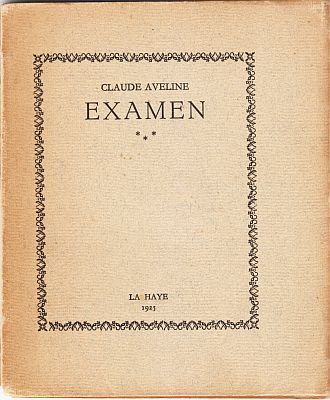 2 BROOKE, Jocelyn The Elements of Death. Poems in Pamphlet XII, 1952. Aldington, The Hand and Flower Press, 1952. Original wrappers, stapled. (36) p. With loose 'Biographical Notes' of the Poems in Pamphlet 1952 series (4 p.). First edition. Fresh and flawless copy.
€ 25
* Collection of poetry published by Erica Marx in her short-lived (1951-1952) monthly Poems in Pamphlet series.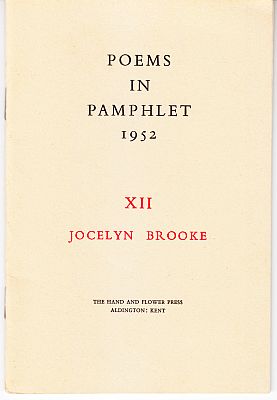 3 CARTIER, Roger L'Héritier du Bal Tabarin. [Paris], Éditions Enoch & Cie., [1933]. Oblong 16 x 24 cm. Illustrated wrappers, stapled. 16 p. Fully illustrated, mostly double spreads. First edition. Very slight cover wear.
€ 45
* Fantastic advertising booklet for the 1933 comic French film L'Héritier du Bal Tabarin ('The Heir of the Cabaret Tabarin'). Eight inventive double-page designs in colors. See scan, I'm willing to send you more pictures!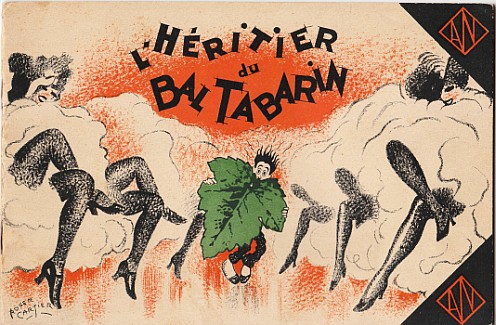 4 CHRIST, Hans Ludwigsburger Porzellanfiguren. Mit 162 Abbildungen in Kupfertiefdruck nach Aufnahmen von Otto Lossen. Stuttgart / Berlin, Deutsche Verlags-Anstalt, 1921. 4to. Original vellum backed boards. (2), 120 pictures, 62 pages of text. First Edition. Bookplate and small number in ink on inside front cover. Almost fine.
€ 45
* One of 200 numbered copies of the deluxe edition, bound in gilt half vellum. Elegant figurines dating from 1760 - 1790. About the designers Beyer, Riedel, Louis, Lejeune, Bauer, Schmidt, Dannecker, Sonnenschein, Weinmüller,Scheffauer, Isopi and Frank, with chronology and a section on marks. 162 figurines on 120 plates printed in fine heliotype. Text in German.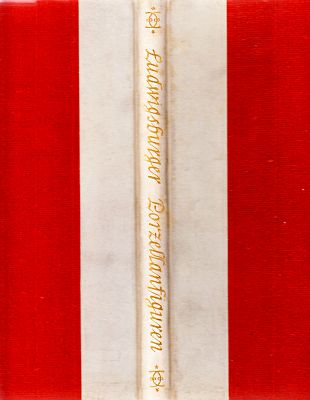 5 DJÂMÎ Salâmân & Absâl. Poème allégorique persan traduit pour la première fois en français par Auguste Bricteux. Avec une Introduction sur le mysticisme persan et la rhétorique persane, et des notes. Paris, Charles Carrington, 1911. 4to. Original wrappers. viii, 200 p. Uncut. One of 600 copies on Vergé Anglais paper (total number 650 exx.). Tiny tear in backstrip.
€ 70
* Persian poem translated into French. Introduction of 59 p., 30 pages notes, with three indexes.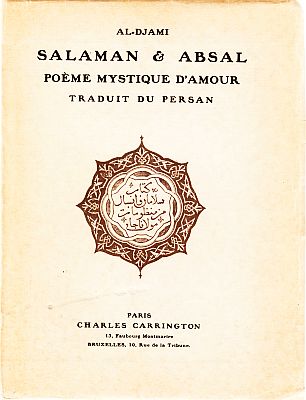 6 JOLAS (ed.), Eugene Transition. An International Workshop for Vertigralist Transmutation. Edited by Eugene Jolas. July, 1935, No. 23. The Hague, Servire Press, 1935. Original illustrated wrappers (with a design by Paul Klee). 212 p. Illustrated. Cover a bit soiled and very slightly worn. Corners lower cover creased.
€ 90
* Contributions by many avant-garde authors, foremost James Joyce's Continuation of Work in Progress. INSERTED is the Transition 23 supplement Testimony against Gertrude Stein, a pamphlet by George Braque, Eugene & Maria Jolas, Henri Matisse, André Salmon and Tristan Tzara (Transition Pamphlet no. 1, February 1935, 16 p.).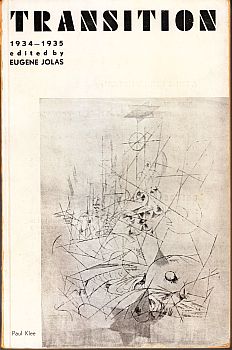 7 KIPPS, Donovan Dolly Morton. Seuls mémoires authentiques sur la flagellation des esclaves avant la guerre de Sécession, la discipline dans la vie passionnelle des colons sudistes, et les sévices exercés contre les femmes blanches du Nord anti-esclavagistes. Traduit de l'Anglais pour la première fois par Augustin Sarcel. Illustrations de Louis Malteste. Paris, Collection des Orties Blanches, (about 1928). 23 x 15 cm. Original wrappers. (6), 248 p. On vergé paper. Uncut. Reading slant, some vague creasing and spots, but a very good copy.
€ 80
* "Dolly Morton. The only authentic memoirs about the whipping of slaves before the Civil War, about discipline in the passionate life of the Southern colonists and the cruelties to the white anti-slavery women of the North. Translated from the English for the first time by Augustin Sarcel." A salacious flagellationist book, situated in Virginia (1866), with nice black-and-white illustrations by Louis Malteste. There have been various suggestions for the name of the author, however, none of these appear to be sure; there's even some doubt about this being a translation or the original. See Mendes 160-A.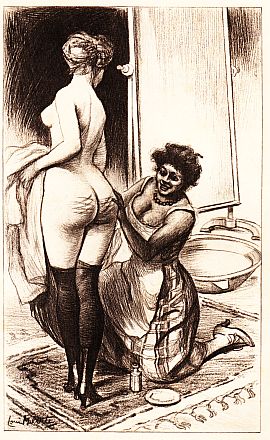 8 KREUTZBERG, Harald Bauernball-Kalender Bimmelbach 1921. (Dresden, Akademie für Kunstgewerbe, 1920). 4to (28 x 22 cm). Rebound in modern cloth, original stiff wrappers bound in. 13 leaves. 15 large format linocuts, wrappers colored by hand. First edition. A delicate book, protected in rough natural cloth.
€ 350
* "Farmers' Ball Calendar Bimmelbach 1921". Fantastic quasi-naive humorous calendar wrought by Kreutzberg when he was only 17 years old, before becoming the famous brilliant ballet dancer. Two black linocuts for the wrappers, colored by hand, and one large monochrome linocut for each month plus title. Each linocut has some rhyming text, for instance 'Auf diesem Bilde kannste sehn, wie schön die Frühlingslüfte wehn!' Printed in a small number of copies.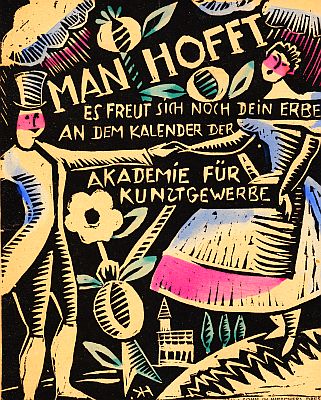 9 KRONFELD, Susan Spaghettiana. West Burke, Vermont, The Janus Press, 1976. 25 x 18 cm. Original artistical cloth/ paper binding with a spine label. Leporello (also called 'accordion') of 20 leaves showing graphic variations on spaghetti. No text. Printed in 150 numbered copies at The Stinehour Press on Mohawk Superfine. Bound by Jim Bicknell. First edition. Excellent copy.
€ 30
* A leporello of 25 x 356 cm!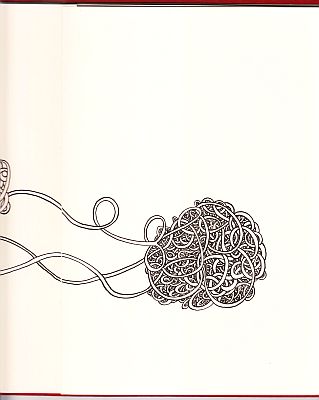 10 MONTHERLANT, Henry de L'Exil. Pièce en trois actes (écrite en 1914). Avant-propos de René Groos. Illustrations de Edy Legrand. Paris, Éditions du Capitole, (1929). Original wrappers. 206 p. Uncut. Of a total edition of 2570 copies, this is one of 10 copies on Imperial Japanese paper, numbered 7 - 16, with a suite of 4 etching/ aquatints of the illustrations. First edition. Some tiny spots.
€ 280
* With a bibliography of the author. The colophon has been SIGNED by Montherlant in violet ink.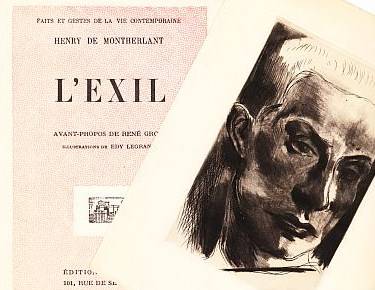 11 MONTHERLANT, Henry de Original photo by R. Prive with handwritten dedication by Montherlant. 1960. 24 x 18 cm. Photographer's stamp and small brown spot on verso. Tiny corner creases.
€ 100
* Very attractive picture of Montherlant signing a book. With inscription to "(name, difficult to read) à la Comédie Française en décembre 1960, Montherlant".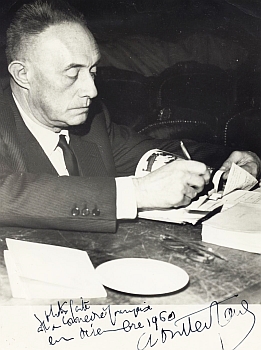 12 MORISON, Stanley First Principles of Typography. [Amsterdam], Balkema (Vijf Ponden Pers), 1946. Original cloth. (2), 38 p. Printed in a tiny number of copies (less than 100?) with Romulus type on mould-made wove paper. Uncut. Fine copy.
€ 65
* Of the Vijf Ponden Pers, a series of exquisite bibliophile books printed in secret under the Nazi occupation of the Netherlands, this is the very last one, printed after the war. It is a compact text from 1936 about typography by Morison, the designer of Times type. First Principles of Typography was the credo of Jan van Krimpen, who was responsible for the design AND for the type of this book.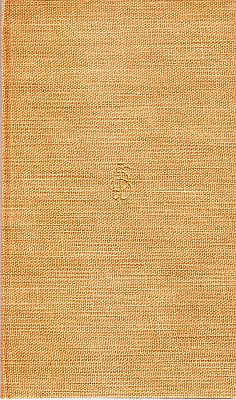 13 PHILEBUS [= John Leslie Barford] Fantasies. London, Privately printed & Published by Galloway & Porter, 1923. 18 x 11,5 cm. Original boards with title tickets. (12), 76 pp. Uncut. Printed in 250 copies. First edition. Backstrip a bit sunned, otherwise a fine copy.
€ 90
* A mix of poems, not too sad, partly Uranian. D'Arch Smith p. 240. With a page of art paper as a frontispice, inviting you to paste a picture of your own preference on it!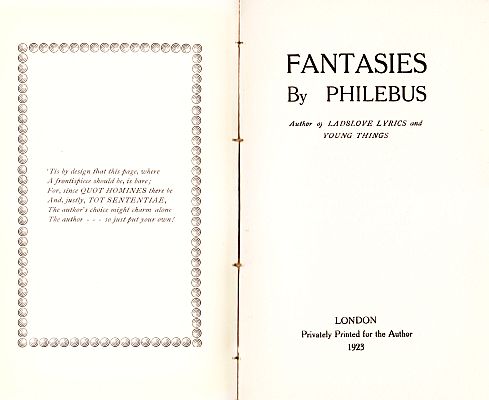 14 POWYS, Theodore Francis An Interpretation of Genesis. London, Chatto & Windus, 1929. 26 x 17 cm. Cloth-backed decorated boards with dust jacket. (8), 104 p. Top edge gilt. Unopened. One of 490 numbered and signed copies. First edition. Jacket with two 5-cm-tears and slightly soiled, some edgewear. Flyleaves partly foxed.
€ 75
* In the form of a dialogue between 'The Lawgiver of Israel' and 'Zetetes'. An 'original, heretical, and at times profoundly moving attempt to distil the spiritual truth from the Book of Genesis', according to Richard Perceval Graves. Sternly printed with Caslon type and a black letter on fine laid paper.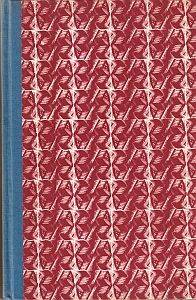 15 POWYS, Theodore Francis Fables. With four drawings by Gilbert Spencer. London, Chatto & Windus, 1929. 23 x 15 cm. Cloth with DJ. Orig. buckram with morocco title ticket and dust jacket. (2), x, 280 pp. Top gilt. Uncut. No. 20 of 700 numbered copies, SIGNED by Theodore Powys. Printed on heavy wove paper. Special simple cream-coloured dust jacket for the limited edition somewhat discoloured and a bit spotted. First Edition.
€ 85
* Nineteen stories with bizarre titles, for instance 'The Clout and the Pan', 'Mr. Pim and the Holy Crumb', 'The Seaweed and the Cuckoo-Clock', 'Darkness and Nathaniel'. An charming book of enchanting literature.

16 RACKHAM, Arthur The Allies' Fairy Book. With an introduction by Edmund Gosse C.B. and illustrations by Arthur Rackham. London/ Philadelphia, William Heinemann/ J.B. Lippincott, (1916). Original decorated cloth. xxii, 122 p. With 12 color illustrations, many black-and-white illustrations and vignettes by Arthur Rackham. A very good copy with very little wear on cover, old bookseller's ticket on inside front cover, tiny name on flyleaf, some foxing.
€ 65
* Very attractive book containing fairy stories from the Allied countries of World War One. Binding shows two whimsical gilt fairies.
17 SCHOFF, Otto 'Liegende Frauen' (Two Women Lying Down). Original lithograph from Vier Zeilen. Herrenspende auf dem Berliner Presse-Ball 1928. Berlin, Verein Berliner Presse, 1928. One side pasted on nice colourful paper, like the 12 other lithographs (by different artists) in this series. 14,3 x 19,8 cm. Fine condition.
€ 50
* Lithograph suggesting a lesbian intimacy, by a master of casual erotic perception (1884-1938).
18 URBAN, Erich. (ADVERTISING) Am 7. März erscheint das goldene Buch der Küche. Der praktische Ratgeber für Küche und Wirtschaft. (Prospect, large format). Berlin, Verlag Ullstein, [1929]. 33,5 x 21,5 cm. 4 p. With photos and drawings. Printed in orange and black. Folded horizontally.
€ 25
* Attractive publisher's advertisement for this German cookery book showing a rosy-cheeked gastronome about to eat two chickens. With nice drawings of eaters and their food, and some nice blurb. An unusual item!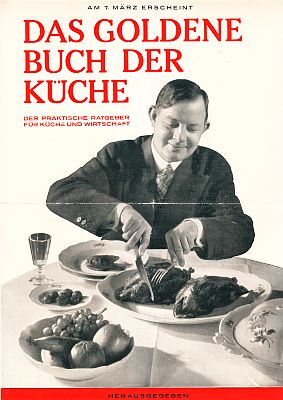 19 WINCKLER-TANNENBERG, Friedrich 'Die G'scharnige auf den Ball'. Original lithograph from Vier Zeilen. Herrenspende auf dem Berliner Presse-Ball 1928. Berlin, Verein Berliner Presse, 1928. One side pasted on fine colourful paper, like the 12 other lithographs (by different artists) in this series. 14,3 x 19,8 cm. Fine condition.
€ 25
* Clownesque print showing three happy men carrying a sled with a naked woman, pretendedly drawn by a gnome-ridden pantomime horse. (If you tell me what a 'G'scharnige' is, you will receive 10 % discount on your next purchase)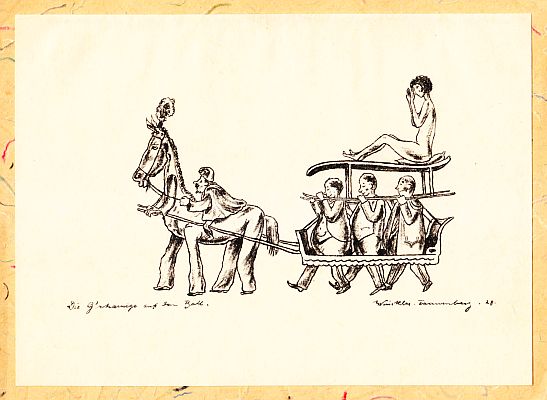 20 ZEPPELINS Travels through space with Parseval! Berlin, Luftfahrzeug-Gesellschaft m.b.H., [1910]. Oblong. Cord binding. Embossed cover with mounted oval illustration of a Zeppelin airship circling a mediaeval castle. (2), 32 p. Illustrated. First edition. Very slight traces of use.
€ 300
* Very rare German trade catalog for Parseval airships advertising many existing and ideal types of zeppelins.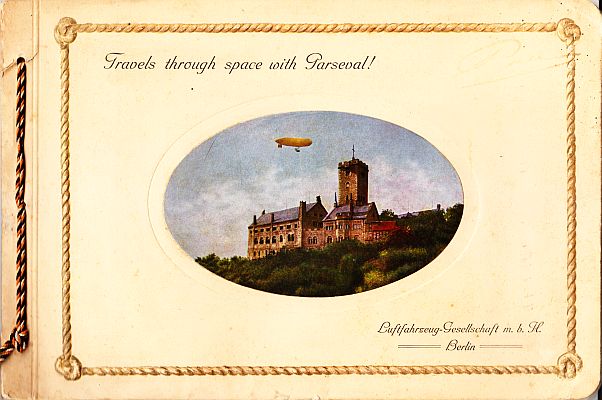 ~*&%&%&*~

If you want to order an item, just send us an e-mail. We accept bank payments with BIC and IBAN, with VISA and Mastercard, and with Paypal.
Goto newsletter: 2 1