2 results found
From newsletter 12:
11. (HOECHSTETTER, Sophie) Verbene Junkers Liebe. Ein Roman, dem Toten Oskar Wilde von einem ungenannten Autor gewidmet. München & Leipzig, Georg Müller, 1907. Original decorated cloth. 296 p. First edition. Name in pencil on title ('Helene Moritz/ 1911') and owner's address stamp on p. 5 ('Gerti Einsporn', Berlin-Adlerhof). Otherwise a fine copy.
€ 175
* Anonymous novel about lesbian love, written with a fine and sensitive pen, apparently written by prolific novelist Sophie Hoechstetter (1873-1943). At the end she put the classical plea for acceptance of homosexuality, invoking Shakespeare, Michelangelo, Winckelmann and Platen, but also 'Wilhelm der Oranier' (= King William III of Britain), Louis XVIII, Molière and Newton, before coming to Verlaine, Wilde, Plato and Sappho. A fascinating novel with a pro-homosexual tendenz. First edition in excellent condition.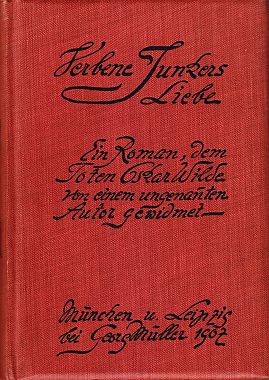 From newsletter 9:
21. SHAKESPEARE, William Shake-speares Sonnets. Maastricht, The Trajectum ad Mosam Press (= A.A.M. Stols), 1923. Original wrappers. (168) p. Uncut. Printed in red and black on Simili Japon Van Gelder in 200 numbered copies. With bookplate of minor author H.J. Scheepmaker on inside upper cover, designed by Jeanne Bieruma Oosting and printed in gold and black. Cover partly browned, yapp edges have a bit of damage. Some offsetting from bookplate.
€ 25
* Reprinted from the First Quarto edition of Shakespeare's Sonnets, edited by F.J.H. Lousbergh and A.A.M. Stols, two monograms designed by A.A.J. Stols. One of the earliest products of young Stols as a publisher, still showing some amateur elements. Van Dijk 9.