antiquariaat Fokas Holthuis - PAULBOOKS
(Fokas Holthuis & Paul Snijders)
Postbus 18604, 2502 EP Den Haag
The Netherlands
telephone +3170-346 6020 - cellphone +316-4190 9323
email paul@fokas.nl
See also www.fokas.nl

Newsletter 18 (December, 2011)

Cura, labor, meritum...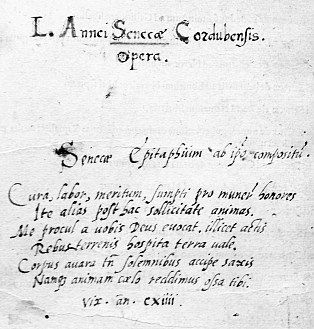 Epitaph of Seneca (title of nr. 1)


1. (INCUNABLE). SENECA, Lucius Annaeus Opera philosophica. Epistolae. [Venice, Johannes & Gregorius de Gregoriis, de Forlivio, about 1492]. Folio (31,8 x 21,8 cm). 18th century vellum with 7 ribs. 237 ff (of 238, lacking final blank C10). 60 lines plus head line. Roman type. Capital spaces with guide letters. Binding a bit worn at lower corners, spine soiled and with old ticket. 18th century bookplate (Joseph Mazarin?). Marginal notes (some trimmed) in a neat cursive contemporary hand, perfectly legible. A bit soiled and some stains. Tiny wormhole in margin starting from page cii to the end. A few restorations in margins. Some insignificant pinpoint holes in the text. In all a good copy.
€ 6250
* This attractive INCUNABLE contains the philosophical works and the letters of Seneca, including his correspondence with Saint Paul (in fact a forgery from the 4th century), and also some works of the philosopher's father Seneca the Elder, that in the Middle Ages were thought to be the son's work). No real colophon was printed in this book, just an explicit with quire register. Contemporary handwritten title on first blank with the Epitaph of Seneca ('Cura, labor, meritum...') as a motto. With some misprints in the pagination and elsewhere (e.g. 'Epitsolarum' instead of 'Epistolarum' on leaf II). BMC, V, 595; Goff S-372, BSB-Ink S-269 (the copy that was used for reproduction has some slight differences in the typesetting). 59 copies in the various libraries. Not in the Dutch libraries. Feel free to ask for photos.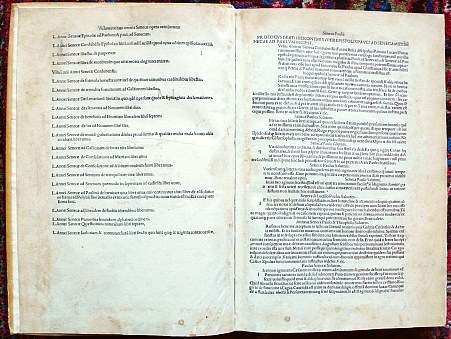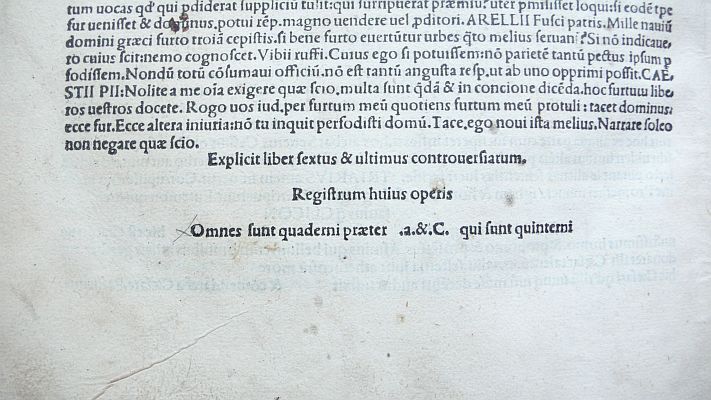 2. BEERBOHM, Max Caricatures of Twenty-Five Gentlemen. London, Leonard Smithers, 1896. 26 x 19 cm. Original gilt cloth. (64) p. with 25 black-and-white drawings. First edition, first issue. Corners slightly bumped, endpapers a bit foxed. Nice bookplate of J.E. Barton. Tiny bookseller's mark. In all an excellently collectible 1890's book in navy blue cloth brightly blocked in gold.
€ 275
* The first book of caricature portraits that was to make 'Max' a household name. Including Arthur Balfour, Aubrey Beardsley, Henry Harland, Robert Hichens, the Marquess of Queensberry, George Bernard Shaw, the Prince of Wales and other famous worthies. Joseph Edwin Barton (1875-1959) was an author on Thomas Hardy (and winner of the Newdigate Prize of 1897).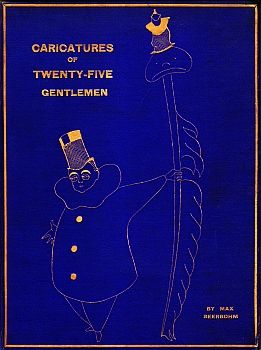 3. BEERBOHM, Max Fifty Caricatures. London, William Heinemann, 1914. 23 x 18 cm. Original gilt cloth. 48 tipped-in color plates and 2 on text paper by Max Beerbohm. Second edition. Some foxing, otherwise in excellent condition.
€ 45
* Caricatures with humorous captions about famous people.

4. BEERBOHM, Max The Happy Hypocrite. Illustrated by George Sheringham. London/ New York, John Lane, The Bodley Head, [1915]. 26 x 20 cm. Decorated cloth. 72 p. With 24 full-page art nouveau illustrations on art paper (with tissue guards) and a number of attractive vignettes and initials. Binding a bit worn. Some foxing.
€ 35
* Beerbohm's most famous book. His eponymous hero, an egotistic nobleman, suffers heavily from love. New edition with subtle, exquisite illustrations and a colorful binding. New author's preface dated 1915.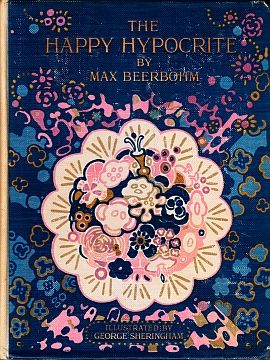 5. BEERBOHM, Max Rossetti and his Circle. London, John Lane, William Heinemann, 1922. 26 x 20 cm. Original cloth. Frontispice and 22 tipped-in color plates by Max Beerbohm with captioned tissue guards. Backstrip a bit darkened. Lower corners bumped. Some foxing.
€ 25
* Caricatures with humorous captions.

6. BEERBOHM, Max The Dreadful Dragon of Hay Hill. London, William Heinemann, [1928]. 24 x 15 cm. Cloth-backed boards with dust jacket. (4), 116 p. With a colorful frontispice by the author. First edition. DJ has a little wear and tear. Some yellowing on last endpaper caused by newspaper clippings.
€ 25
* Humorous story set in 39000 B.C.

7. BEERBOHM, Max Things New and Old. (&) Observations. Londen, William Heinemann, 1923 & 1925. 29 x 22 cm. Two original ochre colored cloth bindings (one darker than the other). viii, 100; (8), 104 pp. With 50 resp. 52 pictures by the author. First edition. Corners bumped. Some traces of use, slight reading slant.
€ 45
* Caricatures of countries and circumstances, and of famous Britons of the 19th and 20th century.

8. BLAKE, William The Marriage of Heaven and Hell. (Maastricht), The Halcyon Press, 1928. Original vellum. (2), 38 p. Printed in red and black on Pannekoek Antique Wove-paper. 1e druk. Fine copy.
€ 350
* According to A.A.M. Stols, P.N. van Eyck, who had edited the text, wanted to have a say on the typograpy of the book. This brought J. van Krimpen to his famous complaint about sparing typography: 'Adieu aesthetica en mooie pagina's! Adieu kleuren! Adieu titels en initialen! Adieu de heele bliksemse boel!' ('Farewell to esthetics and beautiful pages! Farewell to colors! Farewells to titles and initials! Farewell to the whole darned mess!') In the Marriage of Heaven and Hell Lutetia roman and cursive was used plus a lot of swash capitals, resulting in splendid, conspicuous typography.
One of an unknown number of copies in full vellum. Van Dijk 128.
9. (BOEKHANDEL) Internationale Tentoonstelling voor Boekhandel en aanverwante vakken in het Paleis voor Volksvlijt te Amsterdam Juli-Augustus 1892. Catalogus. [Amsterdam], Vereeniging ter Bevordering van de Belangen des Boekhandels, 1892. Original gilt cloth. 196 pp. plus advertisements. First edition. In excellent condition.
€ 140
* Fantastic Victorian catalogue for the International Exposition for Bookselling in Amsterdam of the Dutch Association to Promote the Interests of Bookselling, with many advertisements printed in gold and colors showing the best of the partaking printers and other book producers. No boring Christmas holidays with this book!
10. (BRUNA, Dick). SCHWARZ-BART, André De laatste der rechtvaardigen. (Dutch translation of Le dernier des justes). Utrecht, A.W. Bruna & Zoon, 1960. Cloth with dust jacket. 336 p. First Dutch edition. Black ink slightly worn on the folds, but an excellent copy with crisp jacket.
€ 35
* Graphically effective DJ in black on dark and light red (over upper cover, spine and lower cover) by Dick BRUNA. Rare in this condition.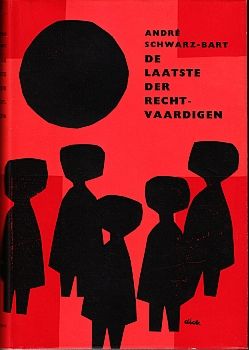 11. AUDEN, W.H. Vier gedichten. Vertaald door C. Buddingh'. (4 poems translated into Dutch by C. Buddingh'). [Dordrecht], Semaphore Pers, 1945. Stapled. 16 pp. Printed in 275 numbered copies. First edition. Cover a bit browned.
€ 22
* Printed in secret under the Nazi occupation of the Netherlands. Translations by surrealist poet C. Buddingh' (1918-1985) of 'Hearing of harvests', 'Here I stand', 'Song of the beggars' and 'Journey to Iceland'. De Jong 50.

12. BÉRAUD, Henri Le vitriol de lune. Illustrations de Guy Arnoux. Paris, Éditions de Mornay, 1931. Full morocco with slipcase (Peuser). Original wrappers and backstrip bound in. (10), 270 pp. 54 pochoir-colored illustrations, vignettes and initials. Printed in 965 numbered copies. Tiny tear at the upper spine, otherwise a perfect and splendid book.
€ 180
* Of 153 copies on various special deluxe papers (ex. de tête), this is one of 25 on Montval paper. Fine deluxe edition!

13. COMENIUS, Jan Amos, as: John Amos KOMENSKY The Labyrinth of the World and the Paradise of the Heart. Translated by Count Lutzow. Illustrations [and introduction] by Dorothea Braby. (London), The Golden Cockerel Press, 1950. 26 x 18 cm. Original decorated cloth. 276 p. Top gilt. Uncut. Printed on mould-made paper in 370 numbered copies. Illustrations in black and brown. Title printed in red and black.
€ 120
* The translation by Franz von Lützow into English was first published in 1901. A large and attractive edition.
14. GUÉRIN, Maurice de Le Centaure - La Bacchante. Préface de Charles Maurras. Illustrations de Adolphe Giraldon. Paris, Plon Nourrit & Cie., 1925. Richly gilt dark green full morocco, with subtle inlays of slightly darker green. Original wrappers and backstrip bound in. With slipcase. Double flyleaves, the first pair in silk with am ornament in triple gilt borders, the second in gold and green cloudy paper. Top gilt. Illustrations cut in wood by Rita Dreyfus after designs by Adolphe Giraldon. Printed in 331 numbered copies. Slipcase a bit worn, spine just a touch discolored.
€ 750
* A breathtaking book: the most important prose poems of De Guérin (1810-1839), one of 30 copies on Imperial Japanese paper with a double suite of all elements of the illustrations and vignettes on Japanese paper and on Chine (India paper). The text has been typeset in the Giraldon of Deberny-Peignot, a type designed by Adolphe Giraldon in 1900. Majestic deluxe binding, signed 'Flammarion'.
15. HIRSCHFELD, Magnus Sexual Anomalies and Perversions. Physical and Psychological Development and Treatment. A Summary of the Works of the Late Professor Dr. Magnus Hirschfeld. Compiled as a Humble Memorial by his Pupils. A Textbook for Students, Psychologists, Criminologists, Probation Officers, Judges and Educationists. London, Torch Publishing Company Ltd., (about 1950). Cloth with dust jacket. 630 p. DJ a bit worn at the edges.
€ 20
* With interesting case studies.

16. LARBAUD, Valery Questions militaires. Lithographies de Piet Worm (colored by hand). [The Hague], A.A.M. Stols, [1944]. Original cloth-backed boards with illustrated title ticket. (28) p. Printed in 250 numbered copies. Some foxing.
€ 140
* Essay on tin soldiers, published in secret during the Nazi occupation of the Netherlands. The delightful illustrations were printed in lithography for 50 deluxe copies and in offset for 200 ordinary numbered copies (this is one of these), but all copies have been colored by hand. Signed by publisher A.A.M. Stols. One of the most attractive Dutch clandestine publications. De Jong 485. Van Dijk 641. Simoni L6.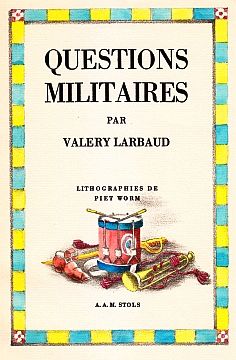 17. NIBELUNGEN Das Nibelungenlied. Übersetzt von Gotthard Oswald Marbach. Mit Holzschnitten nach Originalzeichnungen von Eduard Bendemann und Julius Hübner. Leipzig, Otto & Georg Wigand, 1840. 32 x 24 cm. Contemporary richly gilt dark red full leather with title ticket. Marbled endpapers. Gemarmerde schutbladen. (420) pp. All pages in decorated borders. With extensive list of subscribers (22 pp.). First edition. Binding a bit worn at the edges. At the beginning and the end a little foxing, at the end also a vague waterstain.
€ 175
* Because this large size edition was not ready at the planned date, the artists Alfred Rethel and C. Stilke were asked to design some of the 45 romantic woodcuts adorning this book. A very extensive poem of more than 10000 lines, with delicate illustrations, to be perceived without glasses.
(a corner of the binding)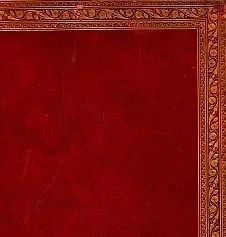 18. POPULAR MEDICINE Merchant's Gargling Oil Almanac. Dream and Fate Book 1886. Lockport, N.Y., Merchant's Gargling Oil Company, 1885. 18 x 12 cm. Orig. decorated wrappers. Illustrated. Attractive colorful covers with on the rear an illustration of a horse tended by two orientals with gargling oil. A few minor defects. With punched hole for hanging string.
€ 20
* Advertising booklet for a cure-all medicine. With an almanac for 1886, moon phases, 'unlucky days', jokes and other amusement.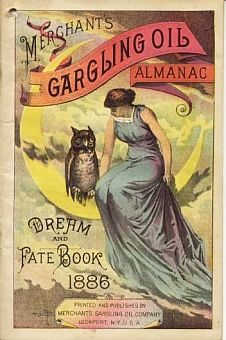 19. 19. POWYS, John Cowper Letters to Louis Wilkinson 1935-1956. London, Macdonald, 1958. Original cloth with dust jacket. 400 p. Illustrated. First edition. Backstrip a bit darkened. Inscription on endpaper (by John Cassidy).
€ 16

20. (RACKHAM, Arthur). GOLDSMITH, Oliver The Vicar of Wakefield. Illustrated by Arthur Rackham. London, Harrap, [1929]. 4to. Full vellum with lettering by the artist. 232 pp. With 12 illustrations in colors plus a few in black-and-white. Flyleaves decorated in silhouette. One of 775 numbered copies, printed on Milbourn mould-made paper. First edition. Tiny split at the top of the spine, some foxing, otherwise fine.
€ 750
* Splendidly produced book, signed by Arthur Rackham. One of 575 copies for Britain.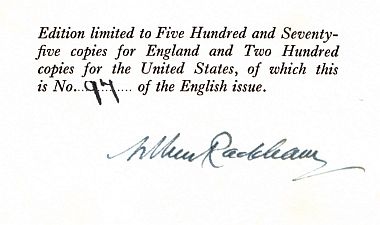 21. TRADE CARD of HARRISBURG, Pa., and GLASGOW Jones' Patent Process, And Patent Improved Dry-Pressing Machine. Harrisburg & Glasgow, McCormick & Begg, Sole Agents for Great Britain, about 1880. Printed on an oblong card (9 x 14 cm) of paper dyed deep blue on one side and hard red on the other side.
€ 16
* Fanciful letters printed in black heightened with gold on recto, and verso with a depiction of an unbelievably intricate dry-pressing machine (looking a lot like a telescope). A patent of 1878 is mentioned. This side was once glued to an album page, as shows a 5 mm vertical glue residue.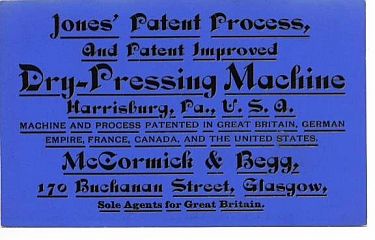 22. TRADE CARD of NEW YORK Special Ribbon Sale Cartons. The Finest Quality of Fancy Ribbons. At 10 cts on the Dollar. Harrisburg & Glasgow, about 1890. Published by H. O'Neill & Co. 321-329 Sixth Ave., Cor. 20th St. Oblong 8 x 14 cm. Printed by E. Wells Sacket & Bro., N.Y. A slight shade of browning, otherwise fine.
€ 15
* Attractive humorous lithographed soft color illustration, 'A Short Yarn', showing an elderly gentleman kissing a maid who holds a ball of wool. The gentleman's lady looks the other way.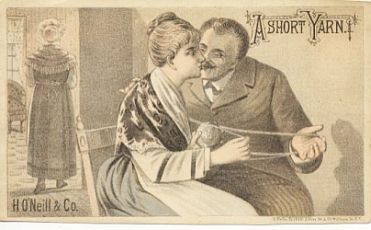 23. VANDAL, Albert En Karriole à travers la Suède et la Norwége. Ouvrage enrichi de gravures sur bois dessinées par L. Breton d'après des photographies et des croquis. Paris, Plon, 1885. 18 x 11 cm. Half cloth / marbled boards. (6), 398 p. With 10 woodengravings by L. Breton after photos and sketches. Third edition (first: 1876).
€ 30
* Account in French of a trip made in 1875 from Paris to Sweden and Norway, ending in Copenhagen. In an open carriage through Sweden and Norway.

24. WARWICKSHIRE Souvenir of Warwickshire. No place, No publisher, Oblong 19 x 24 cm. All in brown: printed in dark brown ink on stiff light brown wrappers, photo's printed in brown offset on cream-coloured paper. Original cord binding. Cover edges slightly damaged, one small piece torn off.
€ 15
* 12 pictures of sights in and around Stratford-on-Avon, Warwick, Leamington and Coventry. No publisher or date mentioned, but probably around 1920.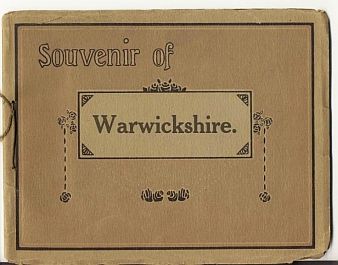 25. WOOLSEY, Gamel Middle Earth. Poems. London, Grant Richards, 1931. Original cloth. 72 p. With a linocut frontispice by Frank Pollard. First edition. Uncut. Cover stained a bit, name on flyleaf ('Gerard Claypole').
€ 25
* First publication by the poet, who first was the lover of Llewellyn Powys, then married Gerald Brenan, afterwards having a love affair with Bertrand Russell.

~*&%&%&*~

If you want to order an item, just send us an e-mail. We accept bank payments (with BIC and IBAN), VISA and Mastercard, and Paypal.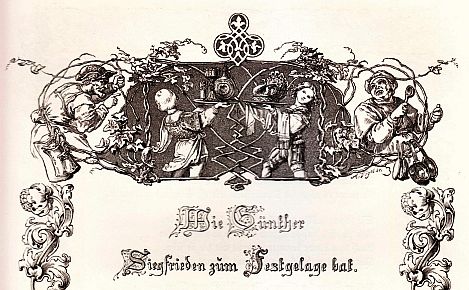 Illustration Julius Hübner (cut in wood by Albert Vogel) from Nr. 17