antiquariaat Fokas Holthuis - PAULBOOKS
(Fokas Holthuis & Paul Snijders)
Postbus 18604, 2502 EP Den Haag
The Netherlands
telephone +3170-346 6020 - cellphone +316-4190 9323
email paul@fokas.nl
See also www.fokas.nl
Newsletter 5 (July 4, 2010)
Happy Secretaries
- 20 varied items -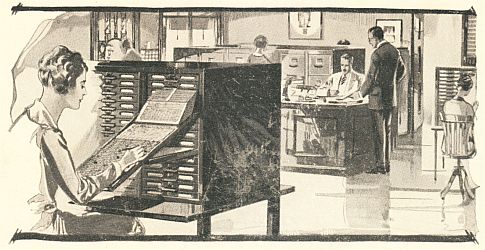 1 BAUM, Vicki Stud. chem. Helene Willfüer. Der Roman eines jungen Mädchens unserer Zeit. (Publisher's advertising folder). Berlin, Verlag Ullstein, (1927/1928). Square format: 25 x 25 cm. 4 p. Large front picture. Excellent condition.
€ 45
* Large (but unblemished) book prospect for Baum's first bestseller, about a university educated woman in the hostile man-dominated world of chemistry. Protagonist with penetrating look, combined with blurb in large type and reviews of three less well-known novels, Hell in Frauensee, Feme and Bubenreise.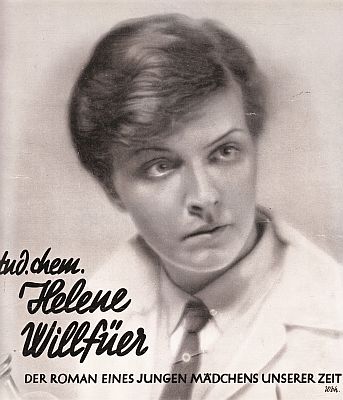 2 CALDWELL, Erskine Original press photo showing Erskine Caldwell and actor Henry Hull. Original photo with stamp ('OCT 24 1935') and a captioned ticket pasted on verso. 21,7 x 16,7 cm. Creased. Glue mark from a ticket partly on front margin.
€ 20
* 'Chicago, Ill. - Henry Hull - who has the principal role in "Tobacco Road", which was closed by Mayor Edw. J. Kelly, of Chicago, who termed it obscene and sordid, is pictured with the author, Erskine Caldwell. It is expected that a legal battle will be waged to defend the play.' A strange picture: on stage, a cheerful grinning Hull, with the outfit of a dirty farmer, scoops water from an old wooden bucket and hands it to Caldwell who is well-dressed, smoking a cigarette, and broadly smiling to the camera.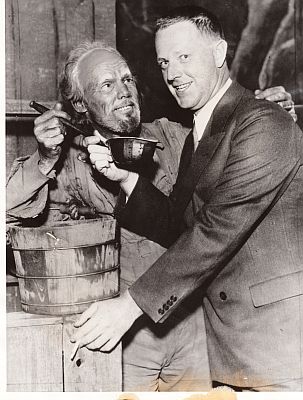 3 FAIVRE, Abel Succinct, humorous handwritten letter signed to an American signature hunter. Two leaves each written on one side. Oblong 8,9 x 11,1 cm. Dated 'La Croix/ Var/ 21 février 1927'. 9 lines. Traces of glue at versos, from an album.
€ 25
* 'J'ai le plaisir d'adresser à Mr. Ashley T. Cole les quelques lignes qu'il me demande. Elles sont écrites à l'encre, puisque l'encre n'est pas encore classée en Amérique comme boisson alcoolique.' Nice letter from the French painter and caricaturist (1867-1945): 'I am pleased to address to Mr. Ashley T. Cole the few lines he asks me. They are written in ink, since ink in America is not yet classified as an alcoholic beverage.'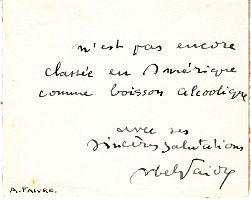 4 HANLEY, James Resurrexit Dominus. (No place, privately printed), 1934. Vellum with leather title label. Top edge gilt. Uncut. Printed in red and black on English handmade paper in 99 copies, numbered and signed by the author (plus 11 for representation). First edition. Unobtrusive stains at the foot.
€ 200
* A stern and sturdy book. A bitter tale about an Irish country girl seduced by a devious priest. Both die in a most dramatic and unexpected way.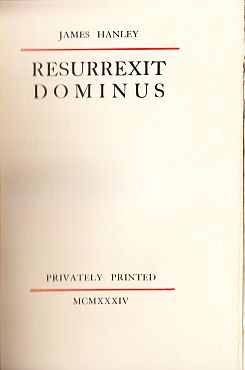 5 HAPPY SECRETARIES OF YORE. Classification System Publicity Collection of 4 English and 6 French (Belgian) illustrated publicity leaflets and trade catalogs. About 1910-1925. A.o.: Y and E Dental Record Systems (12 p., cover torn in two), Y and E Shannon System of Filing (4 p.), a Roneo Leaflet for Steel Cabinets and one for Steel Pigeon Hole Cupboards, Soennecken Livres de Comptes "Perpétuels" (16 p.), and other folders of Kardex, Maison Damman & Washer, Organos (Paris) and Longini. Some wear. Only separate publications, no magazine pages. With depictions of the filing systems, counting books and cupboards, and of happy secretaries using them.
€ 25
* Happy Secretaries of Yore - their Tools. Part One.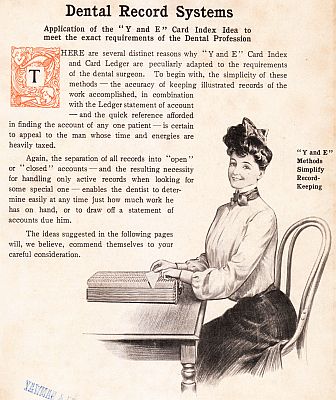 6 HIRSCHFELD, Magnus Sappho und Sokrates. Wie erklärt sich die Liebe der Männer und Frauen zu Personen des eigenen Geschlechts? Leipzig, Max Spohr, 1902. 8vo. Original wrappers. A few graphs included in the text. 36 p. Second edition. Light green cover a bit discolored at the edges.
€ 900
* With a rare AUTOGRAPH DEDICATION on upper cover in Hirschfeld's characteristic, very large hand to George Ives, dated '18/8 07'. Second edition of the first publication about homosexuality by Magnus Hirschfeld, which was published in 1896 under the pen-name Th. Ramien, with a preface for the second edition (20 lines).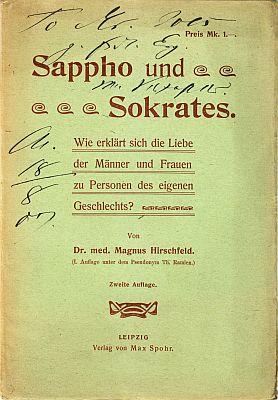 7 HIRSCHFELD, Magnus, (Ed.) Jahrbuch für sexuelle Zwischenstufen mit besonderer Berücksichtigung der Homosexualität. Herausgegeben unter Mitwirkung namhafter Autoren im Namen des wissenschaftlich-humanitären Komitees. 5. Jahrgang. Leipzig, Max Spohr, 1903. Two volumes. Contemporary bindings: three-quarter cloth with marbled boards, titles from original wrappers pasted on spines. (8), 706; (4, 664) p. Illustrated. First edition. Bindings rubbed. Slight traces of use.
€ 325
* With nice bookplate of the Dutch physician Louis Heijermans (1873-1938), author of several medical and sexological books, and a brother of the author Herman Heijermans.
This vol. 5 is one of the most extensive and interesting of the 23 Jahrbücher with large contributions by Hirschfeld himself, Lucien von Römer (his well-illustrated and extensively researched 'About the Androgynic Idea of Life'), Ferdinand Karsch-Haack, Franz Neugebauer and Numa Praetorius (Eugen Wilhelm).
8 HOCQUENGHEM, Guy Race d'Ep! Un siècle d'images de l'Homosexualité. Avec la collaboration iconographique de Lionel Soukaz Paris, Éditions Libres / Hallier, 1979. Original wrappers. 192 p. Richly illustrated. First Edition.
€ 25
* This is in fact a history in French of German homosexuality of the period 1880-1979. Several pictures of Von Gloeden, the story of Hirschfeld, Eulenburg, Von Kupffer, Fidus and many others.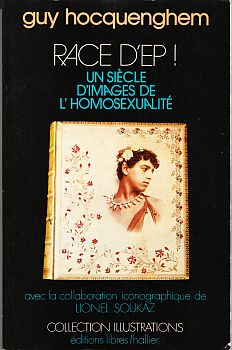 9 KAWELIN - TURGENJEW - HERZEN Konstantin Kawelins und Iwan Turgenjews Social-politischer Briefwechsel mit Alexander Iw. Herzen. Mit Beilagen und Erläuterungen herausgegeben von Prof. Michail Dragomanow. Autorisierte Übersetzung von Dr. Boris Minzès. Stuttgart, Cotta, 1894. Original wrappers. XX, 232 p. Uncut. First edition. Backstrip reinforced with blank paper, otherwise in excellent condition.
€ 18
* Correspondence between Turgenyev, Kawinin and Herzen. Translated into German by Boris Minzès.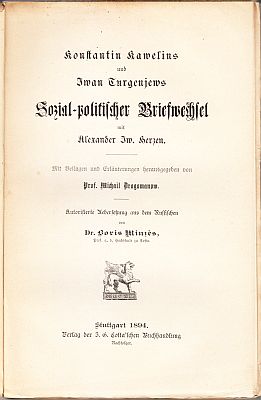 10 LARBAUD, Valery Lettres à André Gide. Introduction et notes de G. Jean-Aubry. Paris/La Haye, A.A.M. Stols, 1948. Original wrappers. (10), 194 p. Printed with J. van Krimpen's 'Romulus' type in 1140 numbered copies. This is one of 50 Roman numbered copies on 'papier de Hollande', (Ossekop to be precise). First edition. Fine copy.
€ 50
* Van Dijk 813.
11 MARIE MADELEINE Ihr schlechter Ruf. Roman. Leipzig, B. Elischer Nf., (about 1910). Illustrated cloth after Franz von Bayros. (4), 352 p. Later edition. Backstrip a bit worn. Two rubberstamps of a former owner, some foxing.
€ 25
* Decadent sentimental novel with fantastic cover illustration in typical Bayros style: an ugly fat toad looks up to a lascivious lady embracing a white lily. Six pages of publisher's ads for other books of Marie Madeleine, citing various critics, a.o. George Sylvester Viereck.
12 MOORE, Henry Typed letter signed, with handwritten additions, to 'Dear Bill', probably in the USA, dated '25th March 1969'. 20 x 15 cm. 21 lines. On paper printed with the Much Hadham address.
€ 200
* About a little bronze and its shippers, Bolton & Fairhead in London.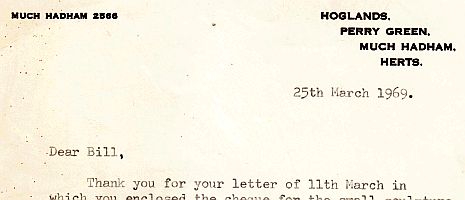 13 PLATEN, August von Neue Ghaselen Erlangen, Junge, 1823. Marbled paper wrappers. (2), 62 p. First edition. Wrappers partly loose. Backstrip worn, dog's ears. Some foxing at beginning and end.
€ 150
* Not a very attractive copy, but still a rare first edition of Graf August von Platen.
14 SCHIDROWITZ, Leo Sittengeschichte von Paris. Die Grosstadt, ihre Sitten und ihre Unsittlichkeit. Wien / Leipzig, Verlag für Kulturforschung, 1926. 23 x 16 cm. Full gilt morocco. 304 p. Richly illustrated. First edition. Spine just a bit discolored, delicate soft leather slightly worn at the corners only.
€ 145
* Illustrated history of Paris, its morals and immorality. Deluxe binding in gilt full morocco. With rare 8-p. illustrated prospect for the book.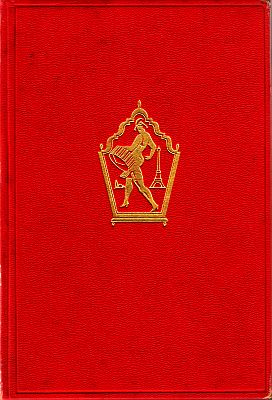 15 SPIEKER, D.C.W. Emiliens Stunden der Andacht und des Nachdenkens. Für die erwachsenen Töchter der gebildeten Stände. Reutlingen, J.J. Mäcken, 1823. Polished and gilt red full calf binding with artificial graining. All edges gilt. 420 p. Steel engraved frontispice and engraved title. Third fully revised and enlarged edition. Corners and sides of spine a bit rubbed. Some foxing.
€ 45
* Attractive contemporary full leather binding.
16 STRATZ, C.H. Die Körperformen in Kunst und Leben der Japaner. Stuttgart, Ferdinand Enke, 1925. 24,5 x 17 cm. Original decorated cloth. XII, 256, (16) p. With 152 mainly photographical illustrations and 4 colour plates. With a 16-p. illustrated publisher's catalogue at the end of the book. Fresh copy.
€ 45
* Shortly before his early death in 1924, Stratz completed this thoroughly revised fourth edition. First published in 1902.
17 UNGEWITTER, Richard Nacktheit und Kultur. Neue Forderungen von Richard Ungewitter. Mit 69 Abbildungen. Stuttgart, Richard Ungewitter, 1919. Original stiff wrappers. (4), 144 p. Illustrated. With a questionnaire. 21st-38th thousand. Cover slightly creased. Cheap paper browned. Some staple rust. A few pencil lines.
€ 20
* Ungewitter (1869-1958) advocated nudity in all circumstances. This book, his fourth on the subject, treats his problems with the law and other reactions. Several pictures show the author himself, for instance skiing naked with Christmas, sitting on pointed rocks in Sweden, throwing logs on a fire and taking a good look at a boy on the Luneburger Heide. Interesting and amusing!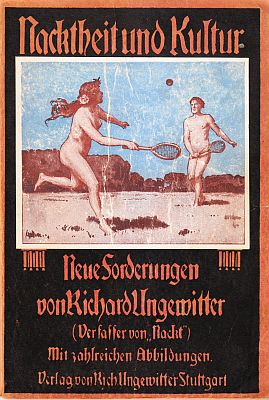 18 VERHAEREN, Emile Svítaní. Druhé, opravené vydáni. Praha, Odeon, 1925. Original cloth-backed decorated boards. 104 p. Second, revised edition. Fine copy.
€ 50
* The first edition of this Czech translation (by Stanislav Kostka Neumann) of Les Aubes was published in 1905. Typography of this edition by Karel Teige. Fine modernist title page.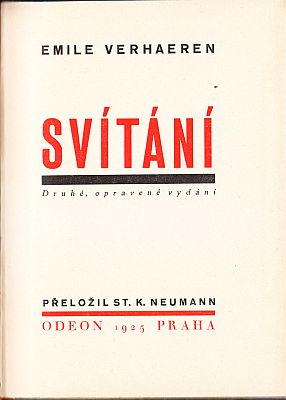 19 WILSON, Angus The Old Men at the Zoo. London, Secker & Warburg, (1961). Cloth with dust jacket. 352 p. First edition. Spine area of dj discolored, dj a bit browned, very light marginal wear.
€ 25
* With an autograph dedication by the author: 'For Henk & Christiaan/ with love from/ Angus,/ September, 1961'.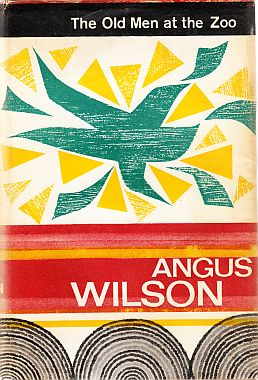 20 WILSON, Sloan Typed letter to 'Mr. Beatty', dated 'Nov. 10, 1955' and signed. 21,8 x 14,0 cm. On paper with printed address ('West Newton, Mass.').
€ 30
* About a catamaran that Wilson saw from the train. However, he doesn't want to buy a boat before he knows exactly where he is going to live. Also about technical aspects of large catamarans. In the same year 1955 Wilson had published his world bestseller, The Man in the Gray Flannel Suit.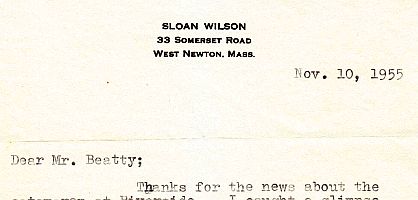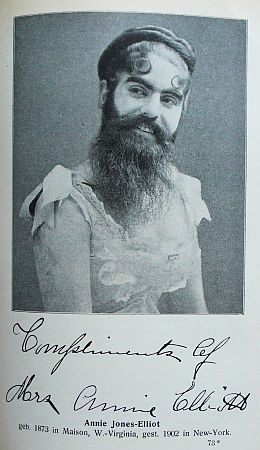 Compliments from Mrs. Annie Jones (page 1157 in nr. 7 of this list)

~*&%&%&*~

If you want to order an item, just send us an e-mail. We accept bank payments (with BIC and IBAN), with VISA and Mastercard, and with Paypal.
Goto newsletter: 5 4 3 2 1